Trend
Seattle's Mini Boom of Filipino Desserts
This city has never exactly been a stronghold of Filipino food. Cheesecake and ice cream might change that.
For the uninitiated, ube sounds more like a car-sharing app than the sweet, violet yam that it is. Yet, it's the exact ingredient that helped amass a cult following for Hood Famous Bakeshop, a small, subterranean bakery off Shilshole Avenue in Ballard. Owner Chera Amlag fell into baking as a kid with a Betty Crocker cookbook, in a childhood home mostly devoid of sweets. In 2013, she and her husband, Geo Quibuyen, one half of local hip-hop duo Blue Scholars, launched the temporarily retired Food and Sh*t popup, in which the duo doled out many a Filipino dish full of flavors they both grew up eating. For these meals, Amlag baked cheesecake, but tempered its classic Americana with a Filipino touch. She made it with ube, which lends its jewel-toned hue and subtle, earthy sweetness to baked goods. The result, a perfect specimen of Instagram bait that's topped with ripples of ube jam and sits on a coconut-butter biscuit crust.
Of the many cuisines that take hold when immigrants land in the Pacific Northwest, Filipino food hasn't quite been one of them. Sure, there's a handful of mom-and-pop places that serve crispy lumpia or batches of quintessential pork adobo. But in 2016—in the very same week—both Inay's and Isla Manila Bar and Grill shuttered and left our sparse Filipino cuisine landscape even more barren. Now, a new wave of Filipino Americans uplift the traditional flavors of home through a sweeter endeavor: dessert.
In the realm of all that is luscious, creamy, and quite often ultra purple, Seattle is experiencing a mini growth spurt of Filipino dessert shops. Two newcomers, Hood Famous Bakeshop and Central District Ice Cream Company, serve uniquely Filipino-inspired treats. There's also Kalsada Coffee, a locally grown business that's reviving Seattle's century-old connection to Philippine coffee farmers. Hood Famous brews one of its new single-origin styles. Collaboration is common amongst these three Filipina-run ventures—for example, Central District Ice Cream Company's scoopable, frozen version of that popular ube cheesecake. 
In 2016, Amlag opened a permanent home for her heretofore "hood famous" cheesecakes, which these days are known citywide. She bakes a whole slew of flavors beyond the signature ube that are rooted in the Filipino palate: white chocolate with rosy-pink swirls of guava, mango with calamansi (a ubiquitous citrus in the Philippines squeezed onto just about anything), and coconut pandan—a tropical herb that's altogether floral, vanilla, and delicately grassy. 
There's a spectrum of customers, says Amlag, among them,"ones who know exactly what they want and ones not really familiar with the flavors." It's a sort of cheesecake blind date that often requires a bit of customer education, something she's ready to do, especially for the menu's newest addition, halo-halo. Meaning "mix" in Tagalog, this summery snack's roll call of ingredients varies, but at its most basic contains a combo of shaved ice, evaporated milk, ice cream, plus fruit, some kind of jelly, and a crunch factor—maybe dried coconut or glutinous rice flakes. Amlag's in-progress version, for now, layers green coconut jelly, palm seeds, mung beans, brown sugar–sweetened saba bananas, jackfruit, macapuno (young coconut strings cooked in sugar), chunks of Hood Famous ube cheesecake, and Rice Krispies. While halo-halo's contents can change, Seattle's feelings for Filipino treats are proving to be anything but mixed.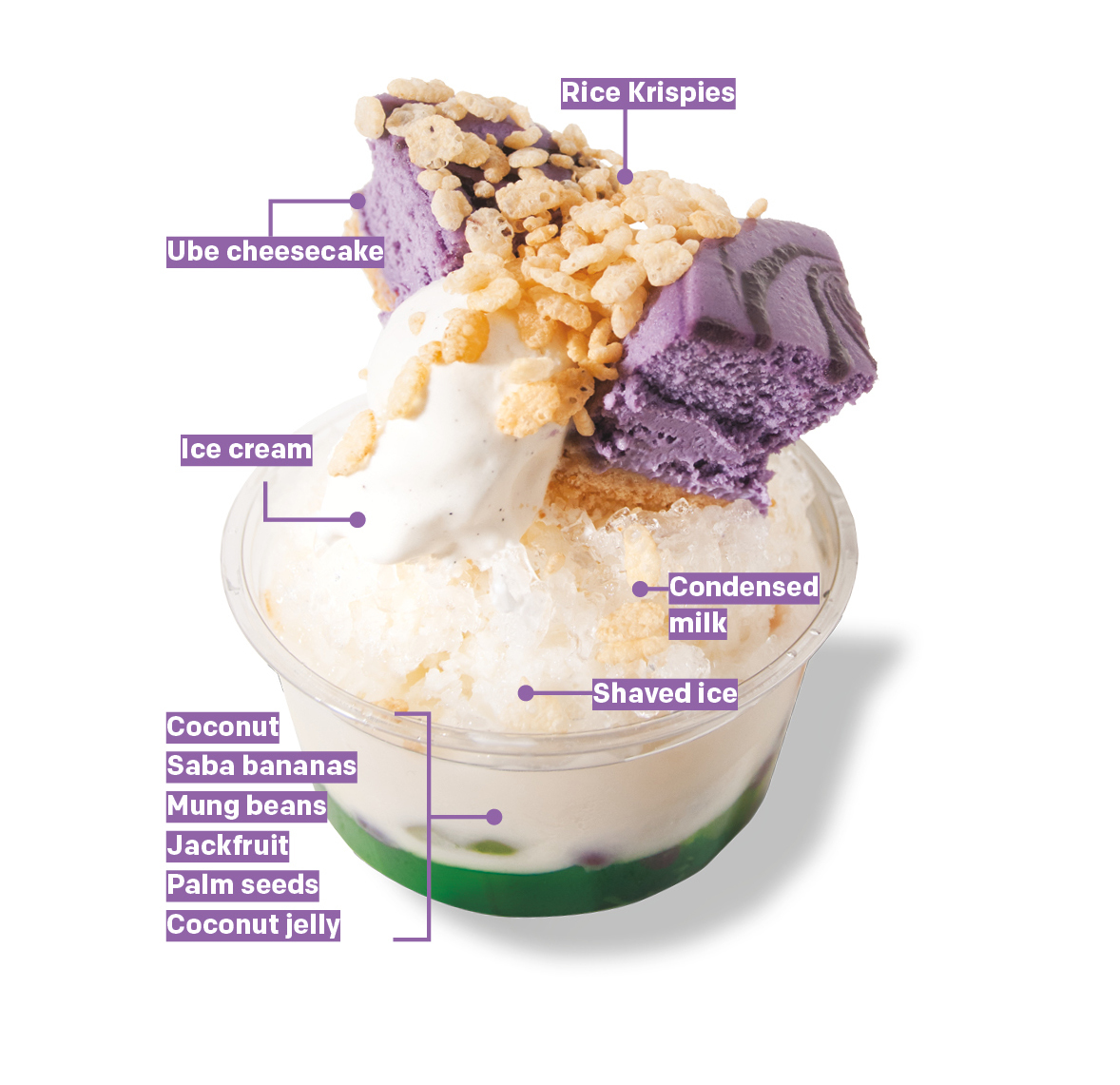 At Central District Ice Cream Company, a queue meanders out the door of the light-filled space with teal walls and candy-colored chairs and onto the East Union sidewalk. It's sunny but cool outside, yet a cluster of people—and ice-cream-loving pit bulls—await the month's latest rotating flavors, which morph beloved Filipino desserts into frozen form. Caramelized banana lumpia, or turon, is reimagined as a sunny-colored scoop. Here halo-halo is a smooth swirl of green, pink, purple, and yellow ice cream—not a crispy or jelly anything in sight. "With the ice cream version I can have all the flavor without the texture," says co-owner Kryse Martin-McGill, who runs the shop with her husband, Darren McGill. They originally hail from California, a state with a big Filipino population, and here in Seattle she wants to bring the community to her.
"I'm a first-generation Filipino American," says Martin-McGill. "I'm really proud of that, so I put that in my food as well." She creates variations that are as bright as her own electric blue hair and as nostalgic as they come. It's not uncommon to see younger Filipino Americans walk in and yell, "Ube ice cream, yeah!"
While its savory side has yet to take off in Seattle, it's not hard to wrap your brain around the cuisine's tropical charms when delivered in familiar packages like cheesecake and ice cream. These do more than just hit a sweet spot. Every purple yam–flavored treat, scoop of coconut-milk mango, or cup of Philippine single-origin coffee, helps root Filipino food more firmly in our city's dining landscape. Perhaps ube is a gateway tuber—a sign of more lumpia and adobo to come.