Essay
The Great Divide: Growing Up in Rural Washington as a Muslim Immigrant
What being an outsider taught me about race, class, and politics today.
Illustration by Ryan Inzana
I sit in the middle seat of his blue Chevy truck as we roll down the rural roads, windows down, gravel crunching under fat tires, a plume of dust in our wake. He wraps his right arm around me, and an old, slow country and western ballad plays on the radio that only picks up two FM channels. Sunshine on my skin, breeze in my hair, he takes me to the family farm where he began driving semitrucks at age 16. The rolling, yellow-brown Palouse hills never looked more beautiful.  
I was living in a country song, but I certainly didn't look like I belonged there. I can't say I ever fully felt like I fit into the world of rural Washington—Hayat Norimine, an immigrant who lived in three different countries before the age of five, an immigrant who aspired to expose herself to as many different cultures as was humanly possible. But here I was again, all these years later, seriously dating a man who thought he may die in the wheat fields he helped sustain. 
I was on spring break from grad school, 22 years old, and back in Pullman, Washington, where 15 years earlier, as a mixed-race Muslim kid, I'd moved from Illinois. The 30,000-person town is eight miles from the Idaho border and east of the so-called Cascade divide—a divide that's both literal, thanks to the Cascade Mountains, and reflected in the politics. Nearly every county outside the Puget Sound region is deeply red; that includes the Spokane area, which in Congress is represented by Cathy McMorris Rodgers—a reliable Donald Trump ally—and in the state legislature by a trifecta of Republicans. 
But like me, Pullman—and surrounding Whitman County—never quite fit the eastern Washington mold. It's home to a university, and therefore a strong liberal base. In the 2016 presidential election the county was the only one in the state that flipped from red to blue and voted for Hillary Clinton. In 2012, the county voted for Mitt Romney. And in 2008, narrowly, for Barack Obama. At a time when politics has never been more polarized, Whitman County seems to be experiencing an identity crisis. It wasn't until I dated a farmhand that I realized just how much.
If you grew up in Pullman, your parents likely either owned land and worked on it for decades or they were employed by Washington State University or Schweitzer Engineering Laboratories. The town was a strange mix of redneck farmers and liberal educators. I fit under the latter, the child of two PhD-educated veterinary researchers. Immigrants may be faced with some disadvantages—but a lot of well-educated immigrant parents know exactly how to get ahead. I grew up in one world, the values of academia elevated above all else. Owen Prout, the man behind the wheel of that Chevy as it wheeled into the undulating hills, grew up in another.  
I don't like the term liberal Muslim because it wrongly implies that Islam is a monolith marked by extreme viewpoints. But to paint you a picture, I didn't wear a hijab in Pullman, and neither did my mom. I went to the mosque once a year for Ramadan, after which my mom inevitably complained about how conservative other Muslims were; and I would avoid pork (until I succumbed to the fact that I loved it). My dad—a Muslim-by-marriage convert—drank alcohol, and eventually I would too, much to the dismay of my mother. 
I remember as a seven-year-old clinging to a borrowed pillow in an unfamiliar bed. We had just moved to Pullman, and I made a friend. She invited me over for a sleepover. And when we went to bed and the lights were out, she told me about Jesus. 
I can't remember when I told her I wasn't Christian. And I can't remember what she was trying to tell me before her mother pulled her out of the room. In hushed voices, they argued. 
"But mom, she just doesn't understand!" the girl insisted in whispers. "She doesn't understand." The tears rolled down my cheeks and onto the pillow. I didn't even know why I was crying. I was confused. What didn't I understand? What is there to even understand?
I can't tell you why Christianity never drew me in. Eventually I came to the conclusion that it didn't make sense, even thought of hell as a fun place. If everyone who wasn't Christian was going there, how bad could it be? That's the mind space I learned to develop very quickly: I was Zen. It's the best I could do. 
In 1999 when our second-grade class had an essay competition in honor of Martin Luther King Jr.—about a time you felt discriminated against—I wrote about being Muslim, and I tied for first place with a Jewish boy. But I could tell my parents were somewhat embarrassed when we attended the award ceremony; my family taught me to lay low and keep my head up high. Here I was getting an award for feeling victimized. When it was my turn, I stood and dreaded that applause moment, when my two parents had muted claps compared to the rest of the kids with an extended support network. 
Later, in high school, I was like any other teenage girl at the time, except sometimes my body insecurities were about race. I was a strange mix of Arab and Japanese ancestry, and nobody looked like me. And nobody talked about race. I never liked my oval eyes, and attempts to open them wider in photos never produced great results. I was mortified that black hairs covered my forearms—they were darker, and more prevalent, than the boys in my class had. Sometimes I would see myself in photos and I'd be surprised. I felt like everyone else, I spoke like everyone else. How could someone who fit in so well look so different? 
Race in Pullman just wasn't a topic. Not to my face. Jefferson Elementary School in 2002, when I was a fifth grader, was 84 percent white. Lincoln Middle School when I was in eighth grade—79.5 percent. Pullman High School—80.1 percent white. 
Though I had good friends who were white, I grew closest with children of other immigrant families. Drawn together as if by gravity, we took solace in one another's homes that didn't look pristine to the point of discomfort. 
Like many immigrant kids, I did it all: played sports, two instruments, math team, Key Club, broadcast, and student government. I'd often carry a video camera, violin, backpack, and softball bag to school all at once. My family stayed away from politics. We read more international news online than we did local news, and knew little about what was happening in our backyard. My parents spoke four languages fluently, and we lived in our own little international bubble—holding parties for Argentine work friends, bringing sushi and hummus to gatherings. As a kid I would know one word for a condiment and wouldn't know what language it came from. 
There's already lots of pressure when you're an immigrant child; your parents risk so much to get you here, and they're expecting results. But the pressure in my upbringing was exacerbated because I was an only child. My two very dedicated helicopter parents gave me every opportunity I wanted, even if it meant credit card debt. Even if it meant spending retirement savings. 
My mom was hesitant to tell people she was Syrian, and she ramped up the secrecy after 9/11. And my dad—a hotshot baseball player among his childhood friends in Japan, before he chose academia over sports—never bought an Ichiro shirt when we went to Mariners games because he thought it'd be cliche. That was my family. My parents never taught me to be proud of race or heritage; it is what it is, but not worth exalting. 
Their approach to race wasn't much different than the white people I grew up around: They wanted to be defined by their merits, where they were heading, not where they're from. My mother thought the U.S. Census boxes were offensive and meaningless; why can't we all just be human? 
So when, in September 2010, I moved to Seattle as a University of Washington freshman, I couldn't understand what the big fuss was about race and diversity. But as I took more classes, began reporting for the student newspaper, and learned about privilege and my own disadvantages, things began to change.  
A week before school began, my parents drove me to my freshman dorm, a 176-square-foot room that managed to comfortably fit three 18-year-olds, their beds, their desks. My mom and dad joined the rush of nervous parents flooding their kids' rooms with only the essentials they could fit into the dorm cabinets. We were done unloading the car sooner than my mom anticipated, and she gave a blubbering hug as the tears cascaded down her face. Then they drove off in a sea of cars.
In Seattle, I began to see my childhood more clearly, the ways in which race and diversity had played out in a small town where no one talked about either. Memories floated to the surface. I remembered the embarrassment I felt bringing a bento box to high school. I remembered the moment my white high school boyfriend told me his mother shared prom photos of me, and that her Texan friends weren't too thrilled with the match. I remembered my own racism, how I said—to my friend whose parents hailed from Guyana—that it would be easier to get into college if I was black. 
I became woke at the university, at least more so, but it didn't have the right effect on me. I battled with depression. And when I wasn't depressed, I was angry. I stopped attending classes. I was a psychology major at the time, and without warning I stopped showing up to my obligation at the behavioral clinic. My grades dropped. I lost motivation for anything besides journalism. But I wrote stories for UW's Daily as if by compulsion, not because it made me happy. I didn't feel empowered. I felt victimized. I felt sick with grief, and I didn't know what to do about it. 
That I had grown up in rural Washington only intensified my anger; people treated Eastern Washington as anything east of the Cascades, and didn't bother to get the geography right. (Yakima is not in Eastern Washington. Neither is Ellensburg, which marks the exact center of the state.) At times UW students who visited Eastern Washington for experiential learning trips would treat it like a third-world country. I was invited to have dinner with some international studies students and a Wall Street Journal reporter. He belittled anyone who grew up in Idaho as someone unlikely to get hired at the paper over an alternative with international experience. You know, Idaho, a few miles from where I grew up.
I felt a kinship to Pullman I'd never felt before. I kept my 509 cell phone number, a mark of my roots—and fellow Eastern Washingtonians would perk up at the area code immediately. It became an instant icebreaker when I became a journalist. But when I got into Northwestern for grad school and moved to Chicago, I was still ready to leave Washington forever and never look back. One person changed that.
Owen Prout, a self-described country bumpkin, began  driving semi-trucks down dangerously narrow, steep roads as a teenager, delivering wheat for large-scale farm operations. His mother's family owned acres of land for decades. The road she lives on bears her maiden name. Owen and his family share a strange, surreal, arguably religious attachment to the land, and his roots were so deep, I had no idea how far they spread. 
When I met Owen in 2013, my understanding of privilege began to change; until then, it was a politically charged word that in Seattle usually means white or male. While Owen was both, and had the privilege of inheriting family land, he grew up in a struggling low-income family trying to feed three kids. His parents didn't pay for his college like mine did. And when feet of snow closed down the country roads during the winters, he'd have to snowshoe his way to a main street just to catch the bus to school.
In rural areas, privilege is known as a term used by elitists to put down low-income white people who haven't been to college. Liberal was a dirty word in the 2016 election cycle among Trump voters in Washington state. Blue-collar Cowlitz County in southwest Washington, for example, voted for a Republican presidential candidate for the first time since 1980, and that GOP excitement translated through almost all state and local elections. That divide can also be seen where rural state legislators (mostly Republicans) pushed for a property tax swap—raising taxes in Seattle to ease local levies for basic education in rural areas where economies are struggling.
The rural-urban divide has never been more stark, says Mark A. Smith, a political science professor at the University of Washington. After the 2008 recession cities recovered, while rural areas still have no jobs; they more often depend on one industry—coal, logging—and when that industry dies, people suffer. Seattle's crusade against fossil fuels was also the enemy; southwest Washington's unemployment rate is higher than the state and U.S. averages. Millennium's proposed coal export facility in Longview and Kalama's methanol plant promised jobs. Some in southwest Washington oppose them too; but for others, environmentalism was the least of their concerns when they couldn't pay for their groceries. People in Cowlitz County want more employment, less poverty—period. Rural residents paid taxes, but didn't see results, and there's a misperception that they subsidize services for cities. (It's more often the other way around.)
The answer? Cut government spending. The GOP spoke to them. And resentment against city people became a social identity that dictated voting trends—antiurban became anti-Democrat, antimulticulturalism, Smith says. Rural voters' identities were wrapped up in being the antithesis of urban values. Cities also grew more diverse, and faster. 
"The white people in the cities have kind of made peace with multiculturalism," Smith said. "Rural areas have had a sense that they are out of the cultural mainstream. The cities are where all the power is, and the cities are calling the shots. … They think the system is not serving them well. And along comes Trump and he says, 'Hey, I'm going to blow it up.' "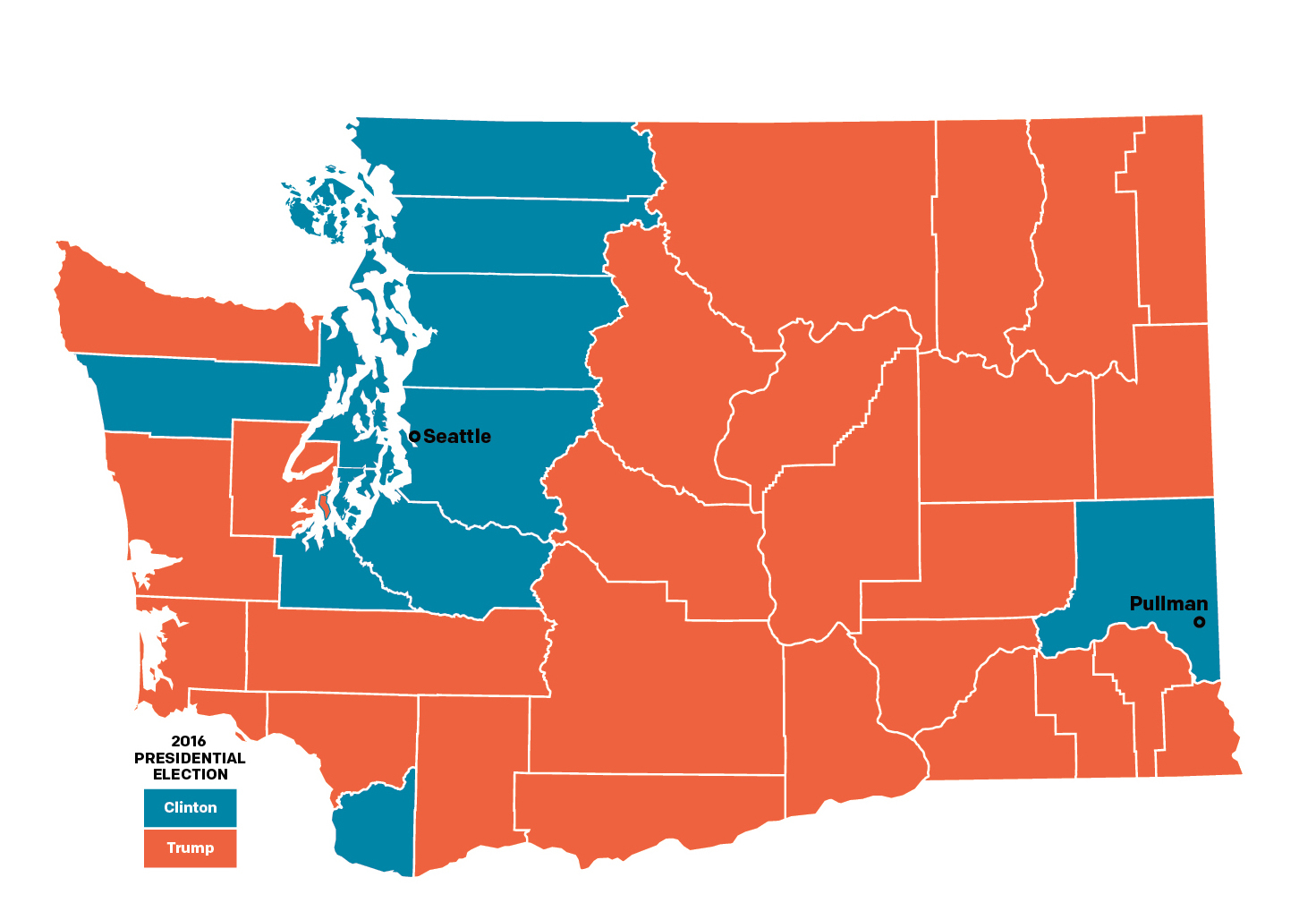 In Seattle, I can't say my name without getting asked a question about where it comes from. At a mayoral candidate forum, where I wanted to connect to a candidate I hadn't met yet, I braced myself when I told a campaign volunteer (and a person of color) my name. I cringed when he said the words, "There's a story behind that." I smiled or laughed, pretended like I was flattered. I was named after my grandmother. Yes, my first name is Arabic, my last name is Japanese. But really I'm in a hurry here, can I please just do my job and ask my questions? 
I know the trouble with avoiding race discussions. I have seen it. I was a byproduct of it. Studies show that when you're aware of bias, you're more likely to improve it. Where I grew up was only slightly less diverse than Seattle, in 2010 estimated at 69.5 percent white. A hyperawareness about the importance of race without the actual presence of diversity somehow translates to exoticizing.
And so in Seattle I've had the opposite problem: a pressure to be more Japanese, more Arab. It's the reason I wanted to leave Seattle the first time. I didn't want to be a token person of color. That's what a movement to require ethnic studies in public schools is hoping to change, says Jon Greenberg, a Seattle public high school teacher and activist. In 2013 the Seattle School District transferred him after one white family filed a complaint against his class discussions on race. (He was later reinstated.)
"I'd like to think that my former students would never put you through that all the time," Greenberg told me. "Racism is one of the biggest stains of this country's history, and race is the biggest predictor of people's lives. It seems too important not to teach."
Color-blindness is never the answer. But I was exhausting myself with explaining my racial identity instead of choosing to bring it up when it felt relevant. Though I recognize now that my heritage is incredibly important, my identity was never wrapped up in it. Through the years, I stopped feeling pressured to either be less Japanese or more Japanese, and decided just to be. It became easier when I found someone who helped me remain intact.
Owen was a senior at Pullman High School when I was a freshman. My interactions with him were limited to the cafeteria. I recalled spotting him in line for a cinnamon roll and thinking, That is the most beautiful man I have ever seen. But I never spoke to him, not until seven years later when we met through mutual friends at the local watering hole, Rico's, during my Thanksgiving break back from Chicago. We talked for a couple flirtatious hours, then hugged goodbye. He added me on Facebook the morning after. He told me he knew a relationship wasn't possible—I lived in Chicago, he lived in Pullman and at the time, he wanted to be a sheep farmer—but that he couldn't stop thinking about me. So we began exchanging emails. 
"I have also always believed that if you want something, you have to work for it," he wrote in his first email to me in December 2013, "so while I think we can agree on a 'let the pieces fall where they may' sort of approach, I hope you won't mind if I make an effort to ensure my pieces don't land very far away from yours." 
A year later, we were married. 
During harvest season, Owen "drove truck," per industry vernacular, delivering wheat from 7am to 9pm, seven days a week—a schedule he'd maintained in the summers since he was a teenager. He knew how to work hard, harder than I've seen anyone work. His grades weren't great. He dropped out of Central Washington University after two years, but eventually put himself through Evergreen State College. His familial devotion was touching to me, and fit in well with my own family's dynamic; my mom and I would later develop an ongoing joke about how "Arab" the Prouts were. 
I had known what I was getting myself into, falling for someone who had very strong ties to the Palouse. I was only 23 when we married, and I had never wanted to be content with the first comfortable option I got. I had wanted to move back abroad, even at the risk of losing a green card. But over time my love for Owen translated to a love for the land that made him, helped him grow. I became comfortable with the idea of living there, while Owen—thinking he had made a commitment to someone who's going anywhere but there—became comfortable with leaving. 
Those dusty, yellow-brown rolling Palouse hills that never looked more beautiful? They were decrepit to Owen, a constant reminder of the land that wasted away under chemical farming to which he helped contribute. We'd drive by and he'd point to the gashes in the hills formed by water runoff, a sign of the damage endured after decades of abuse. 
We were looking at the same site but saw very different things. I had romanticized returning to the land that Owen's family held such ownership to. Owen now saw something else—confinement. Like in quicksand, his roots sunk deeper into the ground the more he tried to escape it. He didn't want that life. He didn't want his kids to have that life. It was a dead end. 
After telling my mom for years that I wanted to travel, and after a year living in Jordan, and another as a politics reporter in Longview, Washington, she was ecstatic when, in early 2017, I accepted a job as an editor in Seattle. Even better, Owen and I found a house with a backyard in West Seattle that we could afford—a surefire mark of status, even if we were renting it.
"You made it," my mom said with a grin and a hug when she came to visit in April. Somehow I knew exactly what that meant. 
Seattle offered Owen an opportunity, a chance to start over: No more hard labor. It opened a door, or at least a window, to finding a job that would align with his passion, library science. But it's not an easy transition without years of the kind of focused grooming I was lucky enough to have since I was a child.
"I worry I won't fit into your world," he once wrote me. "I'm worried that everyone you introduce me to will give me that same sorry, empathetic look and say something like, 'Well, the world needs farmers.' I desire so much to be more than that but am faced with the ugly reality that it is all I have ever known. And when I walk away from it, what will I have then?" Years after we married, he still struggles with finding jobs beyond the service industry.
I can't say I know where we'll end up, but I know my experience in rural Washington opened my eyes to a divide in economic class often ignored. And years since I've left, for better or worse, I know how to answer the question I've grappled with for years. I know where I'm from, and it's not glamorous or exotic. It's a place many immigrant kids somehow thrived, a place I found lifelong connections and my future husband. It's a small town eight miles from the border of Idaho.