Travel
The True Tale of the Oregon Trail
We think we know the whole story. But the pioneers who traveled the Oregon Trail to settle Washington faced more than just snake bites and dysentery.
Covered wagons, calico bonnets, wheel ruts running parallel into the prairie—it's how we picture the Oregon Trail. But when you imagine pioneers driving the oxen, is the one holding the reins as white as Pa Ingalls?
At the 175th anniversary of the Oregon Trail, the stories of the half-million emigrants who made the cross-continental move have gelled into a single narrative: a determined saunter across untouched America punctuated only by Native American raids (which were actually quite rare) and someone dying of dysentery. (Admit it, you learned more from The Oregon Trail computer game than in history class.) But it was no homogenous group that lumbered 2,000 miles; some notable Oregon Trail pioneers were black, including one of the first to land in Washington.
His name was George Bush, an African American with mixed heritage. "He was one of the first. And the few," says Jewell Dunn, a paraprofessional archivist at the Washington State Archives. And that fact made his journey all the more fraught.
According to lore, Bush was a Quaker-raised farmer in 1840s Missouri with $236 in livestock (that was a lot), a veteran of the War of 1812, and a onetime fur trader in the Oregon Territory. After settling in Missouri he married a German American woman, and in only year two of the Oregon Trail's 26-year heyday, he rounded up a group of friends—all white—and hit the trail. Bush bankrolled several of them. 
"There was enormous pressure on him to leave—maybe self-imposed pressure," says University of Washington history professor Quintard Taylor. "Imagine being a free black person, in an interracial marriage, in a slave state."
Trail diaries from spring 1844 note incessant rain, and like thousands after them Bush's party took longer than hoped to ford rivers and creep their prairie schooner wagons across the open land. Bush hid 100 pounds of silver under a false floor in his wagon, then bailed out 20 other families who found themselves short on funds to restock supplies along the way. Like much of what is known about him, the story may be apocryphal—but it jibes with his generous reputation.
The Oregon Trail game ends when you reach Oregon's Willamette Valley (provided you hadn't already emptied all your bullets into a single bison). For Bush and crew, it was just the beginning. Oregon Territory's black exclusion law wouldn't allow Bush to stay—and the punishment was up to 39 lashings. With the region north of the Columbia still under dispute between the British and the Americans, Bush and his party turned toward the wild country that would one day be Washington.
Their route was called the Cowlitz Trail, but it was hardly a marked route. After floating north on the Columbia and Cowlitz, Bush and company spent 15 days of spring 1845 bushwhacking a road north to the South Sound. They settled in present-day Olympia and Tumwater; Washington Territory formed soon after.
Bush's journey wasn't over, and in 1854 his neighbors had to petition the U.S. Congress to grant Bush special dispensation to own his land. Years later, his son would be the first person of African American descent to serve in the Washington legislature. His legacy holds today, if muddied by the passage of time: There are no known photos of him, and the Tumwater middle school named for him, George Washington Bush school, uses a likely inaccurate middle name, a conflation with a later black pioneer named George Washington who founded Centralia.
"Bush was important on a number of levels," says Taylor, disappointed in how few of his students have heard of him. Bush founded more than the town of Tumwater; in 1852 his famous generosity and rich holds of wheat saved his neighbors during a rough winter. By anchoring South Puget Sound, he may have even helped the U.S. wrest the north-of-the-Columbia territory from the Brits. Ezra Meeker, a frontier historian and Bush contemporary, wrote of the man, "He was a true American and yet without a country." Washington state might look different without his journey.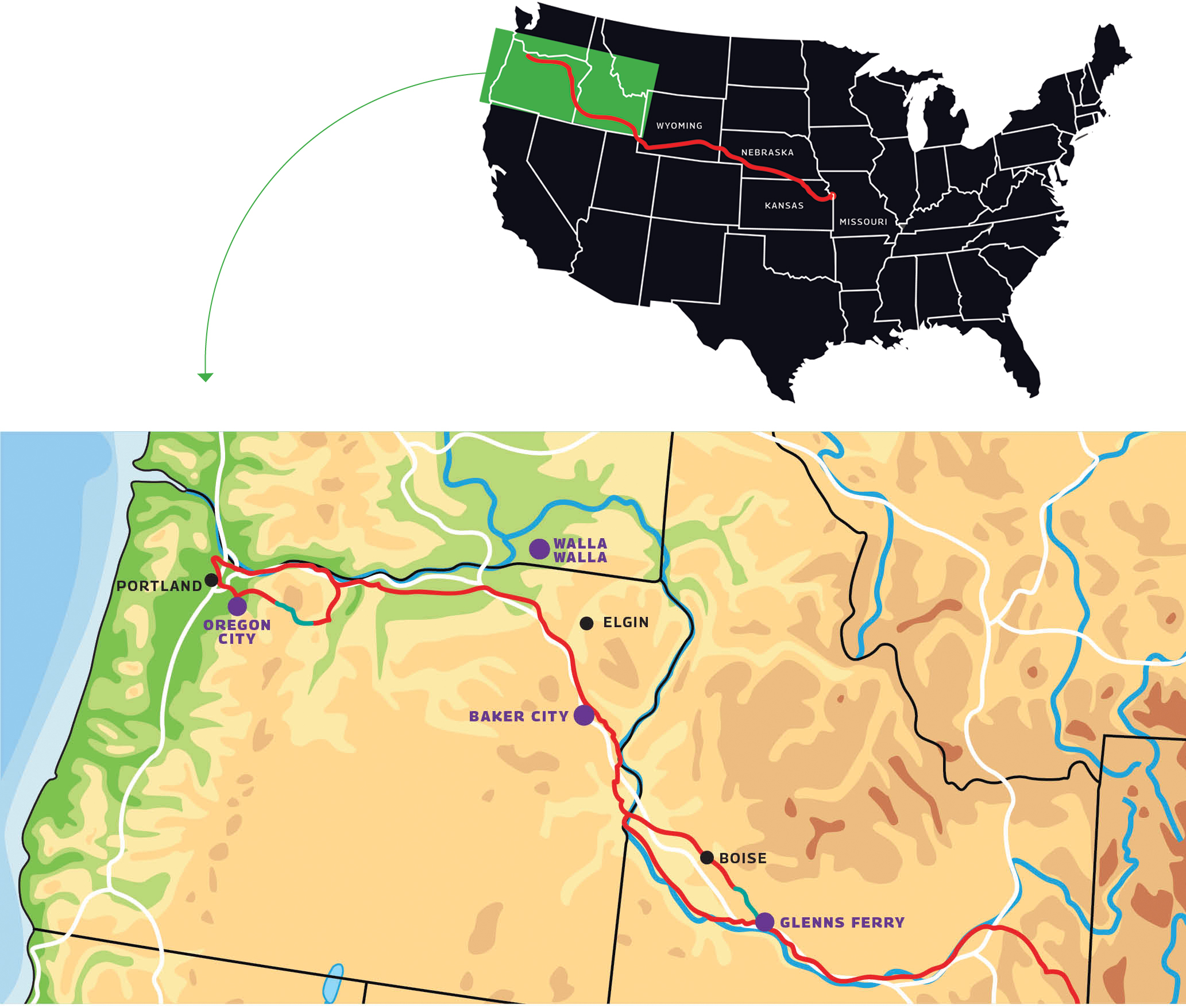 Discover the Trail
Before the age of planes, trains, or automobiles, 500,000 people traveled from central Missouri to Oregon, across the Great Plains and Rocky Mountains, by covered wagon—not via a single pair of wheel ruts but a braided chain of trails. Celebrations across the six-state span will mark this year's 175th anniversary, including here on the western end.
Trip on the Trail 
Relive the storied route this summer. 
Run to the Ruts Baker City's annual 5k/10k foot race is held on National Trails Day, when participants get to run right alongside a piece of the original trail. Sneakers and spandex will get you through faster than leather boots and gingham petticoats. June 2
Concerts in the Park Oregon City hosts regular summer outdoor concerts on a wide green lawn, with the prairie schooner wagon–shaped roofs of the center serving as an audience backdrop. Thursdays, July 12–Aug 23
Heading West Spend Memorial Day weekend in Baker City with costumed interpreters who recreate the experience of forming a wagon train and invite the audience to join. What would you pack for a five-month trip with no return ticket? May 26 & 27