Camping 101
Packing For Your Trip: 15 Essential Camping Items
Even if you don't have a single one of them, there's an outfitter in town who will come to your rescue.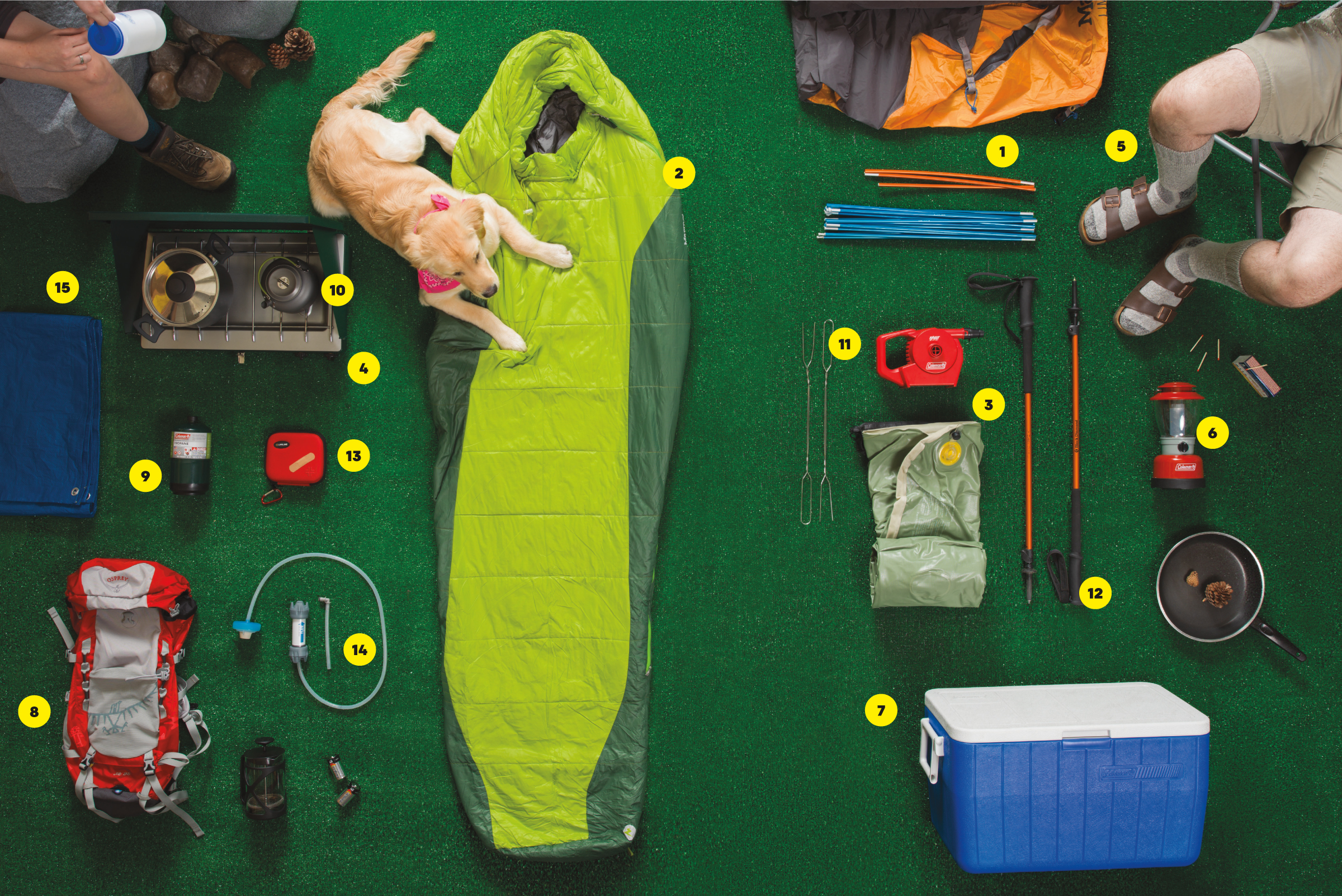 What if everything you needed for a camping trip—minus your own mittens and marshmallows—showed up at your doorstep? Seattle's Back 40 Outfitters will deliver a rubber tub full of tents and trappings, gathering a haul of gear that could run more than $1,000 in a store. Backpacking and festival camping versions are also available. The Back 40 two-person car camping kit ($190 for three days) is a decent beginner's packing list.
1. Tent Don't stress about weight unless you have a long backpack ahead, but don't bring a giant tent unless you're heading to an established campground with large, flat tent pads. 
2. Sleeping Bag A 35-degree bag is fine for most Pacific Northwest summer camping, but if you run cold at night, don't let anyone talk you out of a warmer version. Down vs. synthetic isn't important for a beginner trip. 
3. Sleeping Pad The key ingredient to a toasty night's sleep. Plus: a drug-free head rush if you blow it up without the aid of the pump. 
4. Stove Don't settle for a tiny backpacking stove while car camping. There could come a time when the ability to make both coffee and bacon at the same time will stave off a campsite mutiny.  
5. Camp Chairs One per person, lest the campsite devolve into an endless round of musical chairs. Especially important when dispersed camping. 
6. Lantern Headlamps are important safety tools, but lanterns lend ambience to late-night card playing. Try relying on moonlight for everything else. 
7. Cooler The trick isn't the ice or the brand of cooler, it's how often you open it up. Consider separate stashes for beer and perishable foodstuffs.  
8. Backpack Use your pack for water, snacks, and extra layers. Washington weather can turn on a dime, and even a day hike can take you to a suddenly chilly elevation. 
9. Fuel Small propane canisters can be put in Seattle city trash when they're spent.
10. Kettle If you care about coffee, splurge for a French press over the powdered stuff. 
11. Fire-Roasting Sticks Yes, you could whittle your own, but remember that well-used campgrounds tend to be picked over and twigs can be hard to find.  
12. Trekking Poles Now ubiquitous on trails, thanks to their knee-relieving properties. Useful even for younger adults. 
13. First Aid Kit Make your own additions based on personal preferences or tendencies, like extra ibuprofen, cold meds, or blister treatment. 
14. Water Purifier Campgrounds not labeled "primitive" usually have potable water. Dispersed car campers can make do with water jugs, but backpackers should practice with the filter before the trip. 
15. Tarp This is the Northwest. Pack two.