Morning Fizz
New Alaskan Way Configuration Removes Bus Lanes
$600 million for broadband and no bus lane on new Alaskan Way?
 1. With all the brouhaha about the Viaduct closure this week, one noteworthy data point has come to light: The Viaduct carries 20,000 fewer cars per day than it did five years ago in 2011.
Asked about the decline in car traffic, WSDOT spokeswoman Laura Newborn told me: "We know that more people are using public transportation [and] the road is also configured differently—which may have had an impact." Indeed, in 2011, the southern portion of the Viaduct was taken down and replaced with a scaled back two-lane configuration.  Meanwhile, Metro has also upped its bus game in the last several years there with Rapid Ride service.   
Hopefully, city planners will keep this in mind when choosing between serving bus commuters and car commuters. The current draft environmental impact statement for the new waterfront roadway design includes two options: one without bus lanes and one with bus lanes.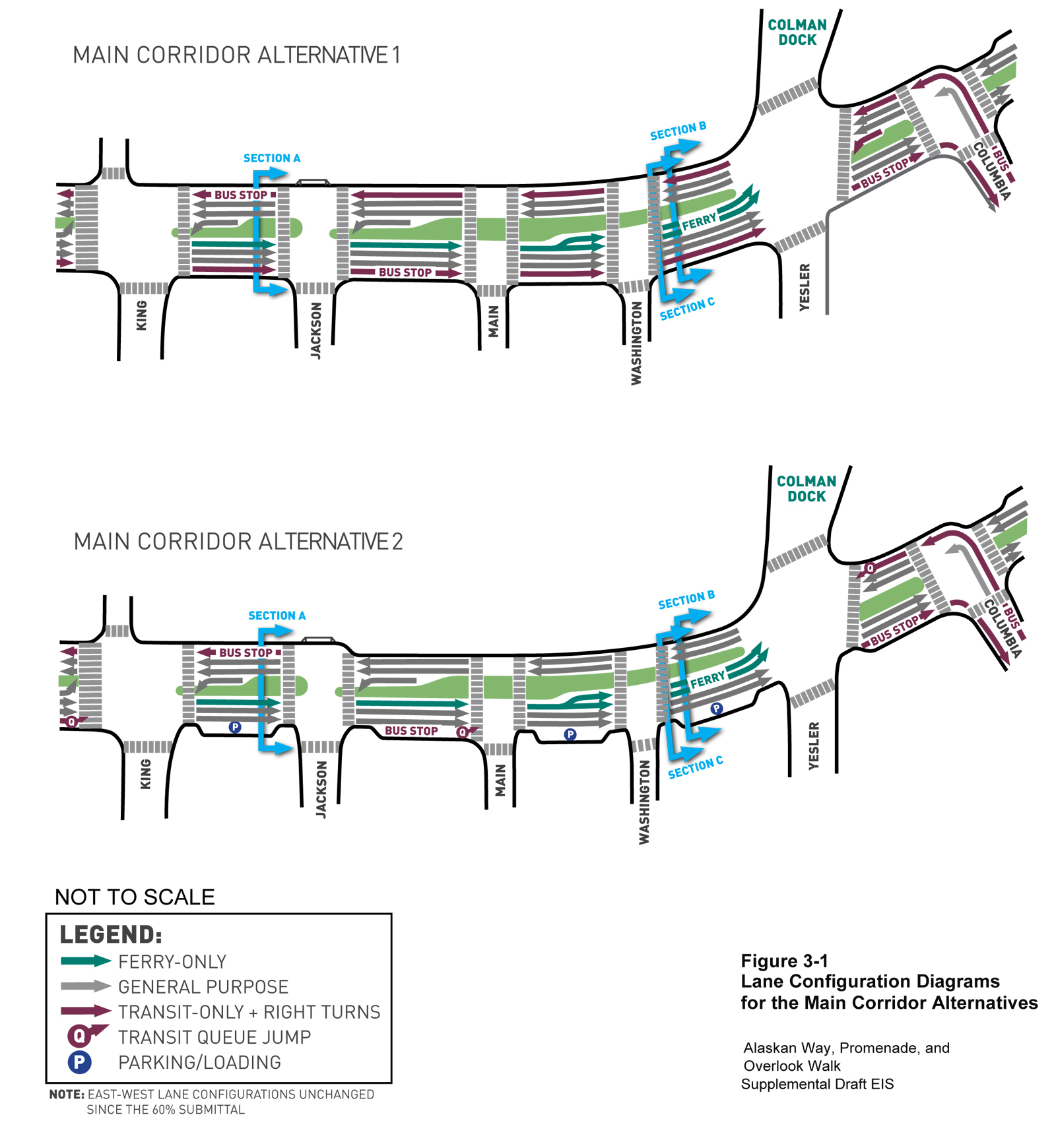 According to Metro, the total passenger load on the Viaduct in the Spring of 2015 was about 17,800 per weekday; they're still crunching the data on 2011.
2. There's a poll in the field right now testing voter support for a $600 million municipal broadband property tax.
The poll tested negative and positive messages about the potential tax, including a hit on council member Kshama Sawant, the "anti-business council member who supports the tax," as paraphrased by a Fizz tipster who took the poll.
The poll also gauged voters' general feelings about Sawant and a few other council members—Sally Bagshaw, Tim Burgess, Lorena Gonzalez, and Mike O'Brien. The poll also asked people their opinion of mayor Ed Murray, Seattle City Light, Century Link, and Comcast.
3. Speaking of polling: I didn't post this as an Afternoon Jolt yesterday because, it's a little hard to believe, but King County council member Joe McDermott, who's running for retiring U.S. representative Jim McDermott's (D-WA, 7) seat (no relation), sent a fundraising letter out to his supporters yesterday claiming that an internal poll had him at "a 26-point opening lead over my nearest opponent, and the best favorability ratio as well!"
McDermott, who's gay, is a reliable liberal vote, though is awkward on the stump in comparison to his two charismatic opponents, state senator Pramila Jayapal (D-37, Southeast Seattle) and state representative Brady Walkinshaw (D-43, Capitol Hill). Both OneAmerica founder Jayapal, one of the few candidates nationwide that the Bernie Sanders presidential campaign has ID'd as an ally with fundraising support, and gay Cuban American Walkinshaw, who's only 32, are both well ahead of (Joe) McDermott on the fundraising front.
Jayapal had no comment on (Joe) McDermott's internal polling. And Walkinshaw's campaign doesn't buy the internal poll, writing off (Joe) McDermott's high favorability ratings to a mix up with outgoing icon Jim McDermott. .
As does this goofy piece from liberal blog DailyKos.
4. Speaking of progressive versus progressive elections: Longtime homeless advocate Nicole Macri held her campaign kickoff this week in the crowded race for Walkinshaw's open state rep seat in the 43rd Legislative District.
Macri, who is a lesbian and is the housing policy director at the Downtown Services Emergency Center, is squaring off against transgender leader Danni Askini, labor lefty Marcus Courtney, and civil rights attorney Daniel Shih, among others. She was feted by supporters, such as progressive Seattle city council member Mike O'Brien, Plymouth Housing Group head Paul Lambros, and Washington Low Income Alliance executive director Rachael Myers, at Sole Repair on Capitol Hill Tuesday night.
Speaker of the state house, state representative Frank Chopp (D-43, Wallingford) was also on hand, though he hasn't endorsed in the race.
NOTE: Several readers have asked why I pointed out which candidates are gay. It's 2016! Who cares? And I pretty much agree with that sentiment. I even said as much about Walkinshaw's race back in 2013 in a post called "Gay is Passé.")
But I believe LGBTQ identity is relevant in both these races.
In the 43rd contest, queer identity politics are a factor because Askini may be the first trans legislator in the state; in that context, it's important to note that Macri is a lesbian. I should have also reported that there was a strong showing from the LGBTQ community at her kick off, which would have put the "gay" reference in context.
In the case of the U.S. District Seven race, identity politics in general are front and center as well—mainly because Jayapal has been a civil rights leader who focuses on racial discrimination on the stump and, in that context, Walkinshaw has made a point of including his Cuban heritage in his campaign literature. And in that context, I felt compelled to flag Joe McDermott's status as a member of a historically marginalized group. And, so, if I was going to flag McDermott as gay, it made sense to do it for Walkinshaw as well.