News
The Pink Panther at Central Cinema
Because I first saw
The Pink Panther
(1964) at the tender age of eight, I always assumed that my nebulous and confused memories of its plot were due to my own inability to follow along.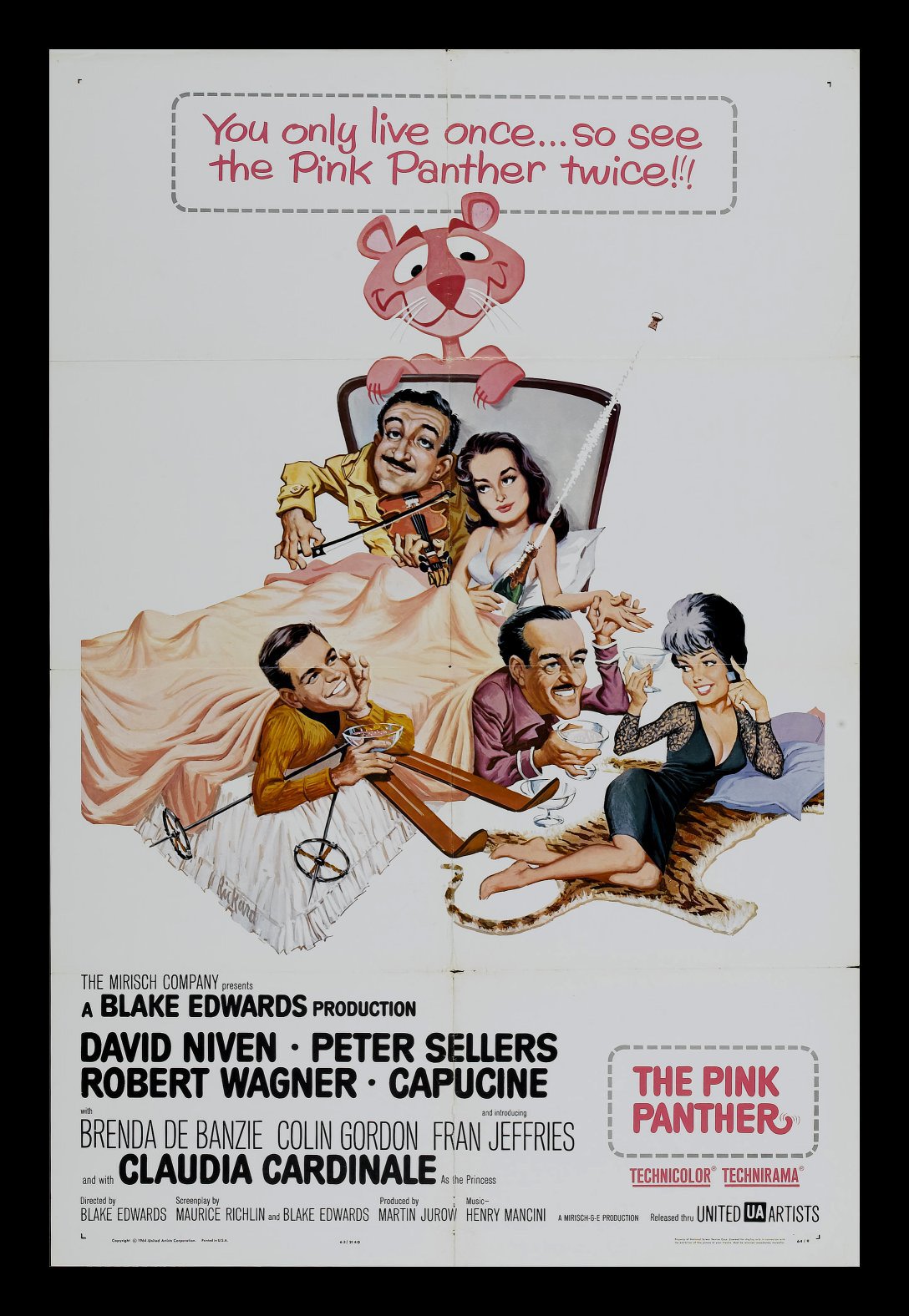 Upon repeat some seventeen years later, I realized that I had seriously overestimated the story.  
The Pink Panther
meanders, stumbles, overreaches, and ultimately fails at constructing a remotely coherent narrative.  It's sort of a heist movie, sort of a Bond spoof, sort of a Peter Sellers vehicle, sort of a farce, but even within twenty minutes of watching, one would be hard pressed to explain how any of those story elements fit together.
The thing is, though, that none of this matters.  Because the real story of
The Pink Panther
is style.
[caption id="attachment_14900" align="alignleft" width="343" caption=" "]
[/caption]
From an
opening credit sequence
that spawned a successful cartoon and plays out to my personal favorite movie theme song, this film goes on to encapsulate a vision of mid-sixties luxury in a film style that can only be described as "what's up, Technicolor?!"
Basically, this is not a movie that you want to follow. It's a movie you want to hang out with. Tailor made cocktail dresses in a ski lodge with a fire pit and a dancing girl doing the samba while serenading guests in Spanish: It's that cotton-candy vision of the carefree, hedonistic upper class in which it just seems natural that everybody's outfit matches the decor of the room they're in, and that skiing in the Alps would be underlaid by mood jazz sprinkled with jingle bells.
[caption id="" align="aligncenter" width="442" caption="Drunk on champagne and hugging a tiger. Ah, the sixties."]
[/caption]
Of course, the other story in
The Pink Panther
is Peter Sellers.  This man is a master of comic timing.  He could watch paint dry and it would be funny.
[caption id="attachment_14883" align="alignright" width="150" caption="Peter Sellers as Inspector Clouseau"]
[/caption]
Instead, he does things like trying to lean on a spinning globe, knocking his wife into a closet in a moment of overzealous affection, or kissing the hairy hand of his companion when he intends to lay his lips on the delicate digits of a princess. In the classy surroundings, Sellers' Inspector Clouseau is a bull in a china shop, but it's china you can't wait to see broken into tiny pieces.
See the
Pink Panther
in the lap of luxury at Central Cinema: A glass of wine, a brick-oven pizza or arugula salad.  Dress up in your best pastels and pillbox hat for a little extra flair.  Plays September 30-October 7 at 6:45 & 9:30pm.