News
Neighborhood Blogs Partner With Seattle Times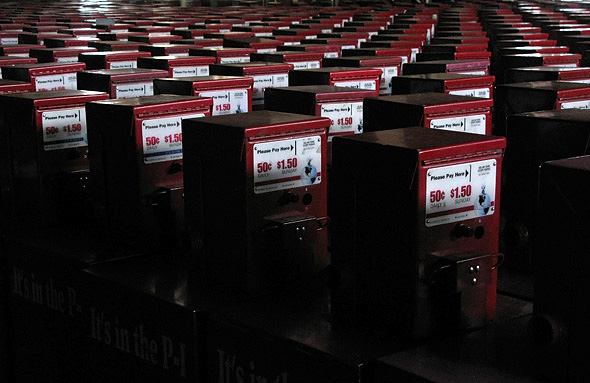 Updated with information from Capitol Hill Seattle blogger Justin Carder and West Seattle Blog reporter Tracy Record.

The
Seattle Times
just announced a yearlong partnership with four local bloggers who collectively operate nine of Seattle's biggest neighborhood blogs. According to a
Times
press release, the partnership will be overseen by American University's JLab: The Institute for Interactive Journalism and funded by the John S. and James L. Knight Foundation.
The partnership is aimed at: "enhancing communication between the respective Web sites and
The Seattle Times
, and discovering ways to share news tips and collaborate on future news gathering; linking to and promoting stories on partner sites when it may help fill coverage holes; exploring tools that could enhance advertising opportunities across the partner sites; and learning about how such partnerships can benefit the respective sites."
According to a post by Tracy Record of the West Seattle Blog, the
Times
will be aggregating posts from the participants' web sites and linking them directly on its front web page—something the P-I has been doing since
February
. In exchange for providing the
Times
with content, Record writes, the
Times
will provide the bloggers with "databases and other information that we may be able to access in unique ways to get you better coverage."
Record wasn't around when I called her this morning, but she did provide some information in the comments to this post:
We are not providing anything for free, unlike efforts run by other corporate media asking for "volunteers." If we report and publish a story we think might be of interest, we let them know, and they link out to us.

[...W]hen the Times linked to the story I broke about a $4 million problem with leaky reservoir covers, about 5,000 people followed the link from the Times home page directly to our site. We are a commercial news service and traffic is valuable, so we get something out of it right there. (The other partners in this endeavor are businesses as well - not volunteer, amateur "blogs." They sell advertising too.) [...]

We've been contacted by more than a few citywide/regional entities in recent months but this is the first and only proposal that promises to be a true collaboration/partnership, which is why - after numerous discussions, in person and via e-mail, conference call, etc. - we and our new partners agreed to give it a whirl.
Capitol Hill Seattle founder Justin Carder says that the partnership is "really about things that could happen naturally all the time—things like cross-linking and giving us credit when we break a story."
"You know how that can happen in this business, where people don't give credit where credit is due. This is a way, at first, to make sure when Capitol Hill Seattle breaks news... you'll see it on [the
Times'
web site]."
I asked Carder if he was worried that the
Times
was getting more from the bloggers than they were getting from the
Times.
Although he acknowledged  he was concerned about helping the Times "build up another establishment," he added, "I think it's a good deal right now for me and the [neighborhood blogging] industry."
"From the indie perspective, doing the dance with big media is something that we all need to be careful with."
In its press release, the
Times
was careful to note that the blogs it chose as partners are "staffed with professionals who share The Seattle Times' journalistic values." I asked Carder: Isn't that a little condescending?
"That's the problem: Everybody wants to create a 'new media,' and yet we're still going back to this old thing of, 'these are the leading sites,' and 'They're all professionals," Carder said. Notably, the
Times
' partnership does not include several other local blogs, including some that frequently break news, such as the Beacon Hill Blog, Columbia Citizens, and the Central District News.
It's unclear how much money is involved in the partnership; according to a post on Capitol Hill Seattle,
there will be "no major business or advertising implications" from the partnership, "though the small amount of money made available to the sites in the partnership from the Knight Foundation will help us grow (and buy a new camera!)." Carder described the payment to CHS only as "a small check."

The blogs that will be partnering with the
Times
include
West Seattle Blog
and
White Center Now
, run by Tracy Record;
PhinneyWood
,
MyBallard
,
Queen Anne View
,
Magnolia Voice
, and
Fremont Universe
, run by Kate Bergman;
Capitol Hill Seattle
, run by Justin Carder; and the
Rainier Valley Post
, run by Amber Campbell.
I've emailed
Seattle Times
spokeswoman Jill Mackie a list of questions.