Tilikum Place Cafe
Editor's Pick
• $$$ • Continental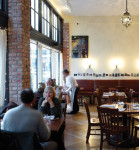 The lived-in ease of this cozy brick-walled boite not only makes Belltown feel like a neighborhood, it leaves you quite unprepared for the exacting food. Chef Ba -Culbert's savory appetizer tarts are rich with delectables like bacon and fine Gruyere, and meltingly crusted; her celeriac soup a fathomless marvel topped with smoky paprika and caramelized pear. Dinners are comforting affairs—perhaps a moist, charry pork chop with polenta cake and greens and grilled fig—and lunches casual and precise. Everything, including the long, luscious list of housemade desserts, tastes more careful and authentic than it ought to at prices this low.
Last updated: 10/22/2013
Address

407 Cedar Street
Seattle, WA 98121

Phone

206-282-4830

Hours

Mon–Fri 11–3, 4–10
Sat & Sun 8–3, 5–10

Website
Please Note: Before making plans, please call ahead with the establishment to verify that this information is still accurate.