The Herbfarm
Editor's Pick
• $$$$ • Continental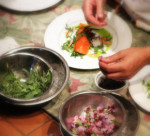 It's the pull-out-all-the-stops, Big Night Out dining room in the state, maybe in three states—and, unlikely of unlikelies, it's also pretty close to culinarily flawless. Its genesis is the stuff of legend; a couple of humble Fall City gardeners with extra chives began selling their bounty out of a roadside cart, then a small retail shop, where they began turning the herbs into festive lunches, then multicourse dinners. Before long, the charming country restaurant had earned a regional reputation for nine-course feasts built upon a theme—Copper River salmon perhaps in late spring, truffles midwinter. A potentially jarring chef turnover in the winter of 2007-08 left fans a little anxious—until they discovered the prodigious talents of the nationally renowned superstar Keith Luce. Like his predecessor Luce combs the wilds and the deeps for the freshest seasonal components, then ingeniously combines them into the sorts of preparations that make bold new sense of Northwest plenty: Dungeness crab and spot prawns with apple-fennel salad and a frothy sea urchin sauce; Douglas fir sorbet, a bracing Herbfarm classic; or, during root vegetable week, Wagyu beef short ribs with truffled beets, glazed turnips, and a parsnip praline. It is all served with astutely matched wines by a staff of courteous pros, and preceded by a lively tutorial from the chef on the herbs and ingredients on offer that evening. There's a lot that's unique about the Herbfarm, including its florid baroque decor (whatever isn't gilded is covered in chintz), its five-hour dinners, its Chilean guitarist, and its lavish formality (Five forks! Five wineglasses!). But for our money, and it's a lot of money, the gently instructional tone is the best part of the experience, revealing that the heart of this world-class destination remains its earnest and down-to-earth delight in the garden. Reservations essential.
Last updated: 09/21/2012
Address

14590 NE 145th St
Woodinville, WA 98072

Phone

425-485-5300

Hours

Thu–Sat 7–close
Sun 4:30–close

Website
Please Note: Before making plans, please call ahead with the establishment to verify that this information is still accurate.