Salumi
Editor's Pick
• $ • Italian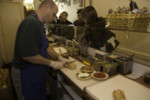 Yeah, this is the place you keep hearing about: the sliver of a Pioneer Square salumeria where the Batali clan proves, sandwich after savory sandwich, that scion and New York celeb chef Mario Batali isn't their only claim to greatness. The fresh and cured meats are why. Batalis' old family recipes and apprenticeship with Tuscan butchers have resulted in a product quite unlike any other in town. It's only open at lunch—there's a line every day waiting for them to unlock the doors—for meaty two-fisters of porchetta or prosciutto or aromatic meatballs, and much more. You may eat at a communal table; probably you'll have to take it to go. You can also carry out the coppa or prosciutto or fresh sausage or (the occasional Tuesday only) gnocchi by the pound. Of course the best way to experience the glory of this food is to reserve one of the twice weekly private tables for 8—off a long waiting list.
Last updated: 08/17/2012
Address

309 Third Ave S
Seattle, WA 98104

Phone

206-621-8772

Hours

Tue–Fri 11–3:30

Website
Please Note: Before making plans, please call ahead with the establishment to verify that this information is still accurate.