How to Cook a Wolf
Editor's Pick
• $$ • Italian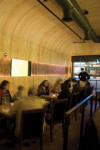 It's Ethan Stowell's lowest-ticket restaurant yet: a tiny neighborhood pocket on the top of Queen Anne whose barrel-vaulted ceiling and coppery light imparts a sense of a glowing hearth. The name honors M. F. K. Fisher's 1942 paean to eating simply; a fitting benediction for a restaurant that celebrates small plates and uncomplicated pastas shimmering with earthy precision. Thick slices of blush-perfect duck fanned across a plate with beets and mandarin oranges is about as wacky as Wolf's kitchen gets; the rule is more like a plate of orecchiette pasta with cauliflower, screaming with garlic and anchovies; or rolls of trofie pasta, intensely brightened with parsley-walnut pesto.
Last updated: 03/10/2014
Address

2208 Queen Anne Ave N
Seattle, WA 98109

Phone

206-838-8090

Hours

Mon–Thu 5–11
Fri & Sat 5–midnight
Sun 5–11

Website
Please Note: Before making plans, please call ahead with the establishment to verify that this information is still accurate.