Delancey
Editor's Pick
• $$ • Pizza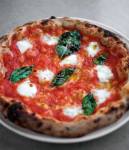 The steamy-windowed storefront is the project of Brandon Pettit and Molly Wizenberg, she of the award-winning blog Orangette, and its wood-fired oven seeks to mimic the coal-fired beauties that issue from the ovens of New York's artisan pizzerias. The resulting crust (you really have to love charry crust bubbles here) is topped with craftsman pepperoni, housemade pork-fennel sausage, and a signature bright-sweet tomato sauce that goes into the oven uncooked. We like the Brooklyn pie, made with aged and fresh mozzarellas and Grana Padano; it's sweet then salty, earthy with age but fresh as spring, burnt then doughy. The place isn't much in the way of a destination—but now can you see why you waited an hour for your table?
Last updated: 07/25/2012
Address

1415 NW 70th St
Seattle, WA 98117-5340

Phone

206-838-1960

Hours

Wed–Sat 5–10
Sun 5–9

Website
Please Note: Before making plans, please call ahead with the establishment to verify that this information is still accurate.