Altura
Editor's Pick
• $$$ • Italian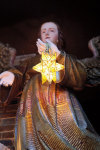 Small yet generous, modest yet gloriously self-assured—Altura (which in Italian means both "height" and "profound depth") spins its delicate web of opposites in a candlelit space on North Broadway. Chef and owner Nathan Lockwood hails from the private dining club the Ruins, where he developed an eye for rococo decadence—one formidable angel hangs from the rafters—and a gift for making diners feel like treasured guests. Service is notably stunning. All this praise and we haven't even gotten to the food: Northwest seasonal ingredients gone Italian rustic—then pushed through an elegance sieve. So off a weekly changing menu, slices of Muscovy duck might come fanned over red cabbage with crumbled amaretti and caramel-roasted turnip; scallops may be dusted with fennel pollen alongside grilled radicchio and fennel. In a refreshing departure from convention one can assemble three-, four-, or five-course meals from all parts of the menu—three starters, for instance, or four mains (apportioned accordingly)—along with an a la carte option. But whatever you do, don't skip dessert.
Last updated: 10/22/2013
Address

617 Broadway East
Seattle, WA 98102

Phone

206-402-6749

Hours

Tue-Thu 5:30-10
Fri-Sat 5-10

Website
Please Note: Before making plans, please call ahead with the establishment to verify that this information is still accurate.