Morning Fizz
Sanders Supporters Want Superdelegates to Follow Caucus Vote
Superdelegates, financial services, and outside accounts.
 1. With Bernie Sanders' scoring a landslide victory in Washington state's Saturday caucuses, local Sanders' supporters are circulating a petition to force the state's superdelegates—party leaders such as U.S. senator Patty Murray and governor Jay Inslee who can vote for the candidate of their choice—to follow the voters. Superdelegates here, as they have nationwide, have largely endorsed Hillary Clinton, which has padded her lead.
Charlie Best, a Sanders fan who began circulating the petition in advance of Saturday's Sanders rout, was quoted in The Seattle Times:
"To be able to have these delegates that have no accountability to the Democratic Party members seems to me to be a tad undemocratic," Best said in an interview. "When the party base speaks, the leadership should follow the lead of the party base."
There's an obvious footnote to Best's logic, though. While caucus turnout was certainly impressive—230,000 Democrats participated in Saturday's caucuses—that number, just 6 percent of voters, pales in comparison to the number of voters who cast ballots in direct primaries (rather than ones that make people set aside a long Saturday morning and afternoon). Both Inslee and Murray, for example, scored nearly 700,000 votes in their most recent respective primaries—and more than one million in their general election wins.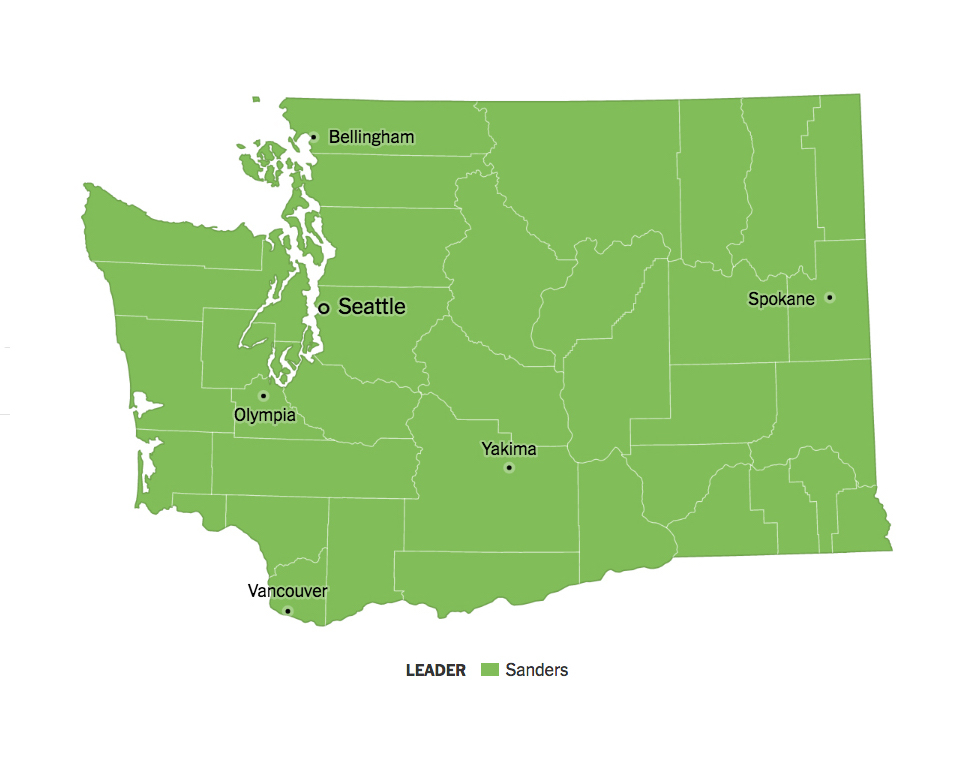 This isn't a perfect comparison, but it certainly calls the supposed populist mandate of the caucus system into question. And there  is another reality check for the Sanders superdelegate strategy: If you follow the results of all the primaries and caucuses to date and assign their respective superdelegates accordingly, Clinton would still have a 136 lead in superdelegates. This includes Iowa, by the way, where Clinton barely won, but according to Sanders fans' strategy, she'd get all the superdelegates.
If you add in the 230 lead of pledged delegates, her lead would be 366. For perspective, Obama had about 127 delegate lead at this point in 2008.
2. Addressing the optics of having an independent ethics investigation into Seattle Department of Transportation director Scott Kubly over his relationship to a bike share company that's likely a lead bidder in the city's new bike share contract, mayor Ed Murray announced (late Friday afternoon) that SDOT would not oversee the bidding process.
Murray has put the city finance department on the job.
"As we bid out our bike share service to a new private operator, we want to eliminate any appearance or public perception that there is any possible bias in the selection process," said mayor Ed Murray. "Throughout the process, FAS administrators will consult with planners at SDOT to ensure that bike share remains well integrated with the city's other modes of transportation."
3. It's a shitshow locally, but according to outside observers, like the Oregonian, Mayor Murray's housing affordability and livability agenda (HALA)  plan is a model for affordable housing.
Unlike Portland and San Francisco, a unique and ambitious plan has taken shape here that sets Washington's largest city apart. It has upended traditional political alliances and played an outsized role in a recent election. And it may offer Portland—a city in the midst of its own effort to plan for growth and infill—a blueprint for dealing with a growing population that increasingly can't afford a place to live.

Sensing a war was brewing, Seattle Mayor Ed Murray convened a 28-member committee to hammer out a Housing Affordability and Livability Agenda. The group became colloquially known as HALA (pronounced as one word) and included a wide range of developers, social justice advocates, environmentalists, neighborhood interests, renters-rights representatives and others.

"He [Murray] had them kind of go away and sit in a room and argue for 10 months," said Dan Bertolet, a senior researcher specializing in housing issues at the Sightline Institute, a Seattle-based think tank that advocates for sustainability and social justice. Sightline's executive director, Alan Durning, was a member of the HALA committee.

Success seemed improbable at first, as the members were all at odds. But in the final two months, they made progress and came to a "grand bargain": the developers agreed to either pay linkage fees or include affordable housing in all multifamily and mixed-use projects in return for relaxed zoning regulations that had limited building heights and density.