Wild Ginger: Downtown Seattle
Editor's Pick
• $$$ • Pan-Asian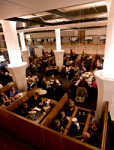 Both locations are enormous, and they better be, since they're required to seat the zillions who tell the Zagats it's their favorite spot in town. And what's not to love? We adore the cosmopolitan pan-Asian purview, encompassing and mastering specialties from Beijing to Bangkok—fragrant duck with steamed buns and plum sauce, Szechuan green beans wizened to perfection, seven-flavor beef (where you can taste all seven!), a slew of pungent soups. Pluses include the dead-center downtown locations (Seattle's next to Benaroya Hall, Bellevue's at The Bravern), the jumpin' buzz that comes from being the busiest restaurant around—and sometimes even the servers, who are unfortunately too crazed to be consistent.
Last updated: 03/10/2014
Address

1401 Third Ave
Seattle, WA 98101

Phone

206-623-4450

Hours

Mon–Thu 11:30–3, 5–11; Fri 11:30–3, 5–midnight; Sat 11:30–3, 4:30–midnight; Sun noon–3, 4–9

Website
Please Note: Before making plans, please call ahead with the establishment to verify that this information is still accurate.