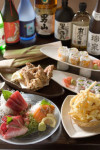 Seattle has its sushi, teppanyaki, and sake bars—but until now it hasn't had a single representative of that most beloved of Japanese watering holes, the izakaya bar. Wann, the first American outpost of a popular Japanese chain, now adds that notch to the bedpost of Seattle's Pacific Rim cred. But whereas the textbook Japanese izakaya is a rollicking nightspot filled with off-duty wage slaves slamming beers and munching fried things off small plates—a hot-blooded collision of Japanese cuisine, comfort food, tapas, and attitude—Wann inhabits a sleek Belltown address whose dark wood and cool white light express something more austere, especially on the restaurant side. The bar, aided by a soundtrack full of Beastie Boys and a screen full of anime, gets more lively, especially when the fried food starts hitting the table: fat wedge fries speckled with nori, Japanese chicken nuggets, and Kurobuta sausage: the sweet, heavy meat of Japanese black hogs raised on sweet potatoes. Liquid merriment comes in the form of sake, shochu, and a full bar—till 2am daily. Kanpai!
Last updated: 06/13/2012
Address

2020 2nd Ave
Seattle, WA 98121

Phone

206-441-5637

Hours

Mon–Thu 11:30–2:30, 4–midnight; Fri 11:30–2:30, 4–2am; Sat 4–2am; Sun 4–midnight

Website
Please Note: Before making plans, please call ahead with the establishment to verify that this information is still accurate.