Volunteer Park Cafe and Marketplace
Editor's Pick
• $$ • American/New American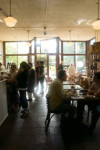 If there's a lazy corner cafe on the way to the swimming hole in Buford, Georgia, it looks exactly like this downhome spot at 17th and Galer. Sun streams through ceiling-high windows, spotlighting flour-sack-topped tables, where a motley assemblage of happy Capitol Hill neighbors gathers for the kind of breakfast that ends after lunch. They might pop in for coffee and a pear-cardamom muffin, a lemon-blueberry scone, or a homebaked peanut butter cookie that'll glue your mouth shut. Or they might stay for lunch or dinner, where mushroom-arugula tarts and lamb shank pot pies and crunchy chicken-apple salads and a masterful mac and cheese populate a sophisticated and well-executed rotating list. It's all very casual and laid back (read: slow); the spiritual successor to North Capitol Hill's late, great quicherie, Surrogate Hostess. The newer patio out back is lazy and sublime as a backyard barbeque.
Last updated: 05/31/2013
Address

1501 17th Ave E
Seattle, WA 98112

Phone

206-328-3155

Hours

Tue–Fri 7–4:30, 5:30–9
Sat 8–4:30, 5:30–9
Sun 8–4:30

Website
Please Note: Before making plans, please call ahead with the establishment to verify that this information is still accurate.