Volterra: Ballard
Editor's Pick
• $$$ • Italian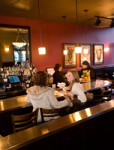 How do a pair of Italian restaurants with the same names, menus, and owners manage to feel so very different? By virtue of addresses on rustic Ballard Ave and newfangled Kirkland. Atmospherically the Ballard original's ruddy, romantic charm feels Tuscan while Kirkland's glassy, generic sophistication feels more Milanese—but both of the relatively unchanging menus offer Northern Italian menus favoring the tried and true over innovation: dishes like tender nuggets of wild boar tenderloin with lush gorgonzola cream, polenta custard oozing fontina and poured over with wild mushroom ragù, or pork jowl, wild mushroom, truffle-butter pasta. Blandness can beset the kitchens (particularly Kirkland's), and service can swerve between chilly and obsequious.
Last updated: 08/17/2012
Address

5411 Ballard Ave NW
Seattle, WA 98107

Phone

206-789-5100

Hours

Mon-Thu 4:30-10
Fri 4:30-11
Sat 9am-11pm
Sun 9am-10pm

Website
Please Note: Before making plans, please call ahead with the establishment to verify that this information is still accurate.