Venik Lounge: CLOSED
Editor's Pick
• $ • Wine Bars/Small Plates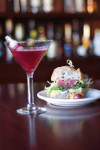 One thin slice of Seattle's emerging worldly elan can be found along the 200 block of Ninth Ave North in the South Lake Union district. There, across from the ornamental ironworks and next door to the Russian spa, the barkeeps at the swank, micromini Venik Lounge pour infused vodkas for the arty sophisticates and junior bohemians who dwell nearby. These infusions are the happy product of a long courtship between vodka and a juicy counterpoint—cherries, say, or garlic and hot pepper. The ancient Russian way is to down one like a shot, then plunge into the banya (Russian steam bath) before the sweetness has had a chance to burn off the back of one's throat—there to be whapped with a bunch of birch sticks called a venik. The new Seattle way is to sip and nibble at Venik—a caviar plate, a niçoise sandwich, a shot of borscht—then steam it all off at Banya 5 next door.
Last updated: 10/15/2012
Address

227 Ninth Ave N
Seattle, WA 98109

Phone

206-223-3734

Hours

Mon–Fri 4–11

Website
Please Note: Before making plans, please call ahead with the establishment to verify that this information is still accurate.