Union--CLOSED
• $$$ • Continental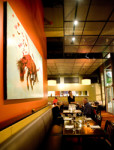 More hot than haute, and never haughty, Union is the much celebrated solo outing from vaunted chef Ethan Stowell, a guy who could pull flavor out of cardboard. Lucky for us, he's working with somewhat better raw materials—hamachi carpaccio, Ligurian olive puree, buttery Columbia River sturgeon—which he accoutres with keen intelligence, assembles into rather pretentious presentations, then underprices. (His multicourse prix-fixe tasting menus are a deal.) This balancing act between high toned and down-to-earth infects the ambience, too: It's a classy midtown haunt, filled with power brokers and symphony mavens, staffed with unpretentious pros.
Last updated: 06/13/2012
Address

1400 First Ave
Seattle, WA 98101

Phone

206-838-8000

Hours

Dinner Mon-Sat 5 p.m.-10 p.m.
Bar Mon-Thu 5pm-7pm and 10pm-11pm; Fri & Sat5pm-7pm and 10pm-midnight

Website
Please Note: Before making plans, please call ahead with the establishment to verify that this information is still accurate.