Tutta Bella Neapolitan Pizzeria: Lake Union
Editor's Pick
• $ • Pizza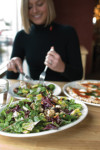 Time was, 20-plus years ago, you had to trek to Filiberto's in outer Burien to find pizza made the way it was meant to be made: thin crusted and barely scorched in a wood-fired brick oven built by Neapolitan masons. Now, many burn wood, but none to better effect than the cozy Tutta Bella, a cornerstone of Columbia City's renaissance. The toppings show zealous attention to proportion, quality, and authenticity, from real San Marzano tomatoes in the sauce to a seasonal wild-mushroom special heavy with funghi. Salads and desserts are the only extras; the shaved fennel in the insalata di Salerno is an especially nice home-country touch. Newer outposts in Wallingford, South Lake Union, and Issaquah spread the love—if not the warm, old-brick atmosphere.
Last updated: 03/10/2014
Address

2200 Westlake Ave
Seattle, WA 98121

Phone

206-624-4422

Hours

Mon–Thu 11–10
Fri & Sat 11–11
Sun 11–10

Website
Please Note: Before making plans, please call ahead with the establishment to verify that this information is still accurate.