Tulio
Editor's Pick
• $$$ • Italian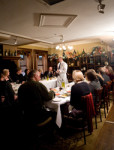 This handsome white-linen, wood-paneled ristorante off the downtown Hotel Vintage Park might appear the product of a hotel-restaurant cookie cutter, from waiters with Continental accents to busers in neckties. But closer inspection rewards with inspired-Italian-with-a-flourish fare—a melting braised pork shank over fat corona beans crowned with horseradish gremolata; crispy duck over farro studded with marinated figs; a distinctively seasoned pasta alla chitarra with braised pork, rosemary, and ricotta—and a record of consistency unusual in a hotel property. The centrally located room is intimate, warmed by a wood-burning oven, and upstairs boasts a private room resembling an aristocrat's library.
Last updated: 10/22/2013
Address

1100 Fifth Ave
Seattle, WA 98101

Phone

206-624-5500

Hours

Mon–Thu 7–10, 11:30–2:30, 5–midnight
Fri 7–10, 11:30–2:30, 5–1
Sat 8–2:30, 5–1
Sun 8–2:30, 5–midnight

Website
Please Note: Before making plans, please call ahead with the establishment to verify that this information is still accurate.