The Pink Door
Editor's Pick
• $$ • Italian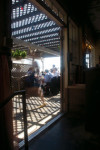 A quarter-century ago it was Seattle's original cult restaurant: The enigmatic entrance (no sign, just a pink door off Post Alley), the Parisian flea market decor, dripping chandeliers, and—after a few years—the burlesque cabaret that if you timed it right would send Tamara the Trapeze Lady soaring over your béchamel lasagna. But more than any of these charms, the city owes its fondness for the Pink Door to the deck. Along about half past 80 degrees on a July afternoon, the ordinary Pike Place Market rooftop magically transforms into a slice of sun-dappled heaven. It'll be so packed you'l feel lucky just to be there, swizzling a pink vodka cocktail and twirling linguine and lazily watching the sun as it crashes into Elliott Bay. In short: The Door has never been about the food, a list of pastas and seafoods that unreliably satisfy. But we dare you to stop going.
Last updated: 08/17/2012
Address

1919 Post Alley
Seattle, WA 98101

Phone

206-443-3241

Hours

Mon–Thu 11:30–3, 5–midnight;Fri & Sat 11:30–3, 5–1:30;Sun 4–11

Website
Please Note: Before making plans, please call ahead with the establishment to verify that this information is still accurate.