Tacos El Asadero
Editor's Pick
• $ • Mexican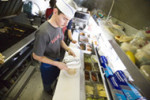 When Seattleites crave tacos they'll drive past a half-dozen ordinary joints in search of that particular parking lot, that particular taco truck. And everyone has a favorite: For some, Taqueria Los Potrillos in the 76 Station parking lot at Rainier and Graham; for others, South Park's Taqueria El Rincon. As for us, we point the car toward Columbia City and slam on the brakes when we get to the tricked-out Tacos El Asadero bus just south of the old Chubby and Tubby. Here they prepare carnitas to be both juicy and crispy; here they fry our mulitas with just the right ratio of cotija cheese to chicken to exquisite grease. Portions are huge and prices loco-cheap. Best of all, indoor seating (with spinning stools!) and covered outdoor seating supply something akin to comfort. Sort of.
Last updated: 03/05/2014
Address

3513 Rainier Ave S
Seattle, WA 98127

Phone

206-722-9977

Hours

10–10 daily
Please Note: Before making plans, please call ahead with the establishment to verify that this information is still accurate.