Sutra
Editor's Pick
• $$$$ • Vegetarian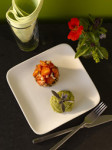 Can a restaurant achieve enlightenment? Seattle's premiere vegetarian haunt, perched like a lotus in Wallingford, comes close. Chef and co-owner Colin Patterson wants dining to be intentional and communal: hence, one or two five-course prix-fixe seatings comprise the night, and before dinner he sounds a gentle gong for a collective moment of gratitude. If it all sounds a little woo-woo—oh yes, he also owns a yoga studio—just hang on until the food arrives. Patterson, former chef of the famous Blossoming Lotus on Kauai, is truly an herbivorous genius. He'll top a salad of frizzled greens with grilled peach, dill dressing, and feisty julienned strips of cayenne, for instance, or build an ethereal lasagna of—get this—golden beets, creamed spinach, heirloom tomatoes, and figs. Food, in short, to satisfy the most carnivorous skeptic and—against this uniquely wholesome backdrop—feed the soul.
Last updated: 03/05/2014
Address

1605 N 45th St
Seattle, WA 98103

Phone

206-547-1348

Hours

Seatings: Wed & Thu at 7; Fri & Sat at 6:30 & 9; Sun at 6:30; Closed Mon & Tue

Website
Please Note: Before making plans, please call ahead with the establishment to verify that this information is still accurate.