Spring Hill
Editor's Pick
• $$$ • Continental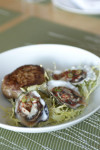 Yet another chef to soar out of a Tom Douglas kitchen and into his own culinary orbit is Mark Fuller, who opened the starkly elegant Spring Hill to an awestruck West Seattle. The scrupulous freshness and winking irreverence that characterizes Fuller's former kitchen, the Dahlia Lounge, are all over these changing menus—in the crispy veal sweetbreads with three dipping sauces (one of them might be ranch); in the South Carolina grits with shrimp gravy, grilled prawns, and an oozing poached egg; in the cold cioppino over shellfish (Fuller's huge on shellfish) whose clear tomato broth holds more tomato essence than the wallop any traditional cioppino might pack. As effete as it sounds, Fuller's food consistently registers more satisfying than precious, especially as evening ripens into dessert, when servers start trotting out wonderments like molten fudge cake with salted peanut ice cream. All within a room whose clean lines and light woods evoke both the Asian and Scandinavian strains of our Northwest heritage—and grant not a whisper of acoustical relief.
Last updated: 06/13/2012
Address

4437 California Ave SW
Seattle, WA 98116

Phone

206-935-1075

Hours

Mon–Sat 5:45–10; Sat & Sun 10–2

Website
Please Note: Before making plans, please call ahead with the establishment to verify that this information is still accurate.