Skillet Diner
Editor's Pick
• $$ • American/New American, All Day Breakfast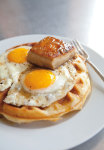 The tidy Airstream trailer that kicked off Seattle's food truck obsession by bringing bacon jam burgers and stunning poutine into the neighborhoods is still up and running; just check the website for today's location. For less mystery—and considerably more roof—head for the sunny Capitol Hill corner storefront with the clean retro sparkle and the earnest plaid-clad hipster servers. There, at booths or the diner bar, enjoy the same burgers and poutine and pork belly waffles, only now not steaming up the windows of your car or breaking your compostable knife. You'll encounter diner tropes aplenty—short-order cooks singeing off arm hairs and barking "Runner!" when an order's up—but make no mistake: There's gastronomy afoot. Thick slices of artisan Duroc pork meatloaf with fresh asparagus; organic Southern fried chicken bravely robust with fennel seeds; nachos made with duck and green olives; grilled cheese sandwiches made with Brie and brioche. Great cocktails.
Last updated: 02/07/2013
Address

1400 Union St
Seattle, WA 98122

Phone

206-420-7297

Hours

Mon–Thu 7am–midnight;
Fri & Sat 7am–2am;
Sun 7am–midnight

Website
Please Note: Before making plans, please call ahead with the establishment to verify that this information is still accurate.