Shiro's Sushi Restaurant
Editor's Pick
• $$$ • Japanese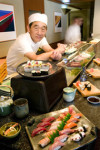 Sushi bars spread like herring roe in this town, but Shiro Kashiba's still reigns supreme. After teaching Seattle to love the fine points of mirugai and otoro at Nikko, he opened this gloriously unfussy Belltown hideaway (over which he still presides, though no longer as owner). The small room is elegant in a plain Bauhaus fashion, and you will eat exceptionally well on one of its white tablecloths. But the dozen seats at the sushi bar are the place to be, both for the show and for the entirely unpredictable, sometimes revelatory, offerings of the evening. Best to dispense with ordering (unless you crave uni, which will mark you as a customer deserving of attention) and ask to be surprised. You may be amazed, and you'll at least be entertained by old masters who both respect tradition and dare to invent. Their exuberance seems to rub off; the sushi and show get strangers at the bar chatting like old friends, belying everything you've ever heard about Seattleite and Japanese reticence.
Last updated: 03/07/2014
Address

2401 Second Ave
Seattle, WA 98121

Phone

206-443-9844

Hours

5–10:30 daily

Website
Please Note: Before making plans, please call ahead with the establishment to verify that this information is still accurate.