Cicchetti
Editor's Pick
• $$ • Mediterranean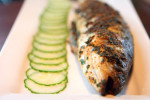 Nobody spins sexy ambience out of four walls and a kitchen like Susan Kaufman, whose Italian Serafina has played stage set now to two decades of pasta-twirling foreplay. She's done it again, in a George Suyama–designed building just across the leafy courtyard from Serafina's back door. It's called Cicchetti (chi-KET-tee), after the social style of small-plate dining in Venice. With the exception of the showstopping Venetian chandelier commissioned for the entryway, Cicchetti plays modern, angular sophisticate to Serafina's older-world rusticity. And from upstairs, the sweep of the Seattle skyline will send a Manhattanesque shiver down the spine of any urbanite. Look for stunning cocktails and the noshes to support them, reflecting the myriad Mediterranean influences the Moors hauled with them to Venice, from clams in fennel-saffron broth and prosciutto–goat cheese pizza to flatbread dips and crispy polenta cakes.
Last updated: 05/24/2013
Address

121 E Boston St
Seattle, WA 98102

Phone

206-859-4155

Hours

Tue–Thu 5–midnight
Fri & Sat 5pm–1am

Website
Please Note: Before making plans, please call ahead with the establishment to verify that this information is still accurate.