Salvatore
Editor's Pick
• $$ • Italian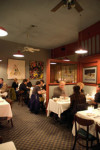 When Salvatore opened its doors at the corner of 61st and Roosevelt, it was one of dozens of neighborhood Italian joints with reasonable price points and a joyful excess of chianti. Now, nearly 20 years later, Salvatore has proven itself an establishment of substance and staying power, thanks to Sal's careful watch over every plate of clam linguine and vitello al limone that leaves his kitchen. Yep, that's Sal over there at the grill; the guy all the regulars—and everyone's a regular—like to saunter up to when they want extra anchovies in their aglio ed olio. And a darned sure aglio e olio it'll be, served by a crack old-school waiter with an impenetrable accent, a packed section, and a sheen of perspiration. He's been working at least since the crowd began to gather on the sidewalk at quarter to five, and he'll be running at least till the last diner stumbles home, drifting away on a fragrant cloud of sautéed garlic.
Last updated: 08/17/2012
Address

6100 Roosevelt Way NE
Seattle, WA 98115

Phone

206-527-9301

Hours

Tue-Thu 5-10; Fri-Sa 5-10:30; Su 5-9:30
Please Note: Before making plans, please call ahead with the establishment to verify that this information is still accurate.