Salish Lodge
Editor's Pick
• $$$$ • Continental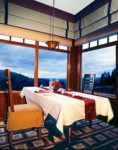 Until some fool plants a restaurant upon the crown of Mount Rainier, no place will capture the Pacific Northwest's numinous splendor quite like the Salish. Perched on the ledge alongside thundering Snoqualmie Falls (hard to see them from most of the tables, FYI), the lodge overlooks a horizon so mystically mist-obscured one understands immediately why David Lynch set his Twin Peaks here. The interior gleams with a burnished elegance befitting autumnal dinners, with a fire roaring in the fireplace and a wash of amber light. The fawning service and formal food mirrors that elegance—with tabs to match. The wine list offers a stunning selection of Northwest reds.
Last updated: 10/18/2013
Address

6501 Railroad Ave SE
Snoqualmie, WA 98065

Phone

425-888-2556

Hours

Mon–Thu 7–3, 5–9:30
Fri 7–2, 5–10
Sat 7–2, 5–10
Sun 7–2, 5–9:30

Website
Please Note: Before making plans, please call ahead with the establishment to verify that this information is still accurate.