Rover's: Closed
Editor's Pick
• $$$$ • French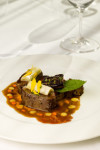 Worth every C-note. Thierry Rautureau, the impish owner-chef of this pretty house-restaurant in Madison Valley, brings the nages, infusions, medallions, and confits of his native France to Seattle palates—preparing them as close to flawlessly as happens in this town, then plating them with the eye of an artist. (No chef in Seattle is as enamored of sauce dots.) You may order à la carte—sampling-size portions only, from about $14 to $22—but you'll be much more satisfied with the five- or eight-course extravaganza, featuring dishes for which words can't quite do justice—diver scallops with foie gras and baby turnips, Maine lobster with roasted beets and sea urchin roe. Some of the city's best servers all conspire to create as close to a casual vibe as one could achieve within an enclave of Rover's stature.
Last updated: 01/17/2014
Address

2808 E Madison St
Seattle, WA 98112

Phone

206-325-7442

Hours

Tue–Thu 6–8
Fri noon–1:30, 5:30–9:30
Sat 5:30–9:30
Sun 5–8

Website
Please Note: Before making plans, please call ahead with the establishment to verify that this information is still accurate.