RN74
Editor's Pick
• $$$ • French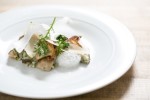 National superstar chef Michael Mina brings approachable French to downtown Seattle, and the generically elegant surroundings, manic atmosphere (the "Last Bottle" wine boards clack out deafening updates whenever the cellar's down to one bottle), and "concept dining" belies what turns out to be a serious kitchen, dedicated to local sourcing and capable of fine things. Of particular note are the composed salads, pork-lentil preparations, and "deconstructed" beef Bourguignon featuring a melting hunk of Painted Hills short rib. Alas, seriousness isn't always enough and conceptions can fail (particularly in the dessert department). The place shines brightest as a drop-in wine bar, with a thoughtful selection of bottles and trusty bar nibbles (check the foie gras sliders) befitting its central downtown location.
Last updated: 03/04/2014
Address

1425 Fourth Ave
Seattle, WA 98101

Phone

206-456-7474

Hours

Mon–Thu 11:30–2:30 and 5:30–10
Fri & Sat 11:30–2:30 and 5:30–10:30
Sun 5:30–10

Website
Please Note: Before making plans, please call ahead with the establishment to verify that this information is still accurate.