Red Mill Burgers: Phinney Ridge
Editor's Pick
• $ • Breakfast/Burgers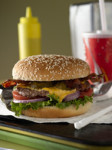 The good folks at Red Mill are both ahead of the times (cellphones are "just rude, dude") and behind them (no credit cards, please)—but let's talk about the here-and-now, because right this second you're craving their bacon deluxe with cheese. Order at the counter of one of John and Babe's three cozy burger shacks, duke it out for one of the oversize wood booths (or any seat at all, in this overpopulated joint), then wrap your maw around the kaiser bun with its thick juicy patty, topped with peppery bacon and dripping spicy mayo. Grab an order of cornmeal-crusted onion rings for good measure. It's quite simply the best burger in town—an opinion agreed upon by so many groupies, it's pretty much become fact. Veggie burgers too, along with fish-and-chips at the newest location by the Ballard locks.
Last updated: 03/04/2014
Address

312 N 67th St
Seattle, WA 98103

Phone

206-783-6362

Hours

Tue–Sat 11–9
Sun noon–8

Website
Please Note: Before making plans, please call ahead with the establishment to verify that this information is still accurate.