Ray's Boathouse
Editor's Pick
• $$$ • Seafood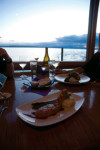 For over four decades, this dockside legend defined iconic Northwest dining, with its archetypal seafood menu, its record of pristine sourcing (Copper River salmon was practically invented here), its stunning wide-angle view over Shilshole Bay and the Olympic Mountains. It's now settled into a more staid level of accomplishment along with a more casual decorative retrofit, eliminating some of its big-night-out cachet. (One even might have a drop-in shot at a table in the new main-floor bar.) The menu gussies up the mainly seafood preparations more than it once did—paella now with king crab legs, saffron-fennel sauce on a dish with Copper River salmon—but fish is still cooked with appropriate restraint. Service is careful and desserts terrific. Upstairs is Ray's Cafe, home of an even better view, a breezy deck, a family--oriented menu, and mediocre food.
Last updated: 03/04/2014
Address

6049 Seaview Ave NW
Seattle, WA 98107

Phone

206-789-3770

Hours

5:30pm–9pm daily

Website
Please Note: Before making plans, please call ahead with the establishment to verify that this information is still accurate.