Poppy
Editor's Pick
• $$$$ • Continental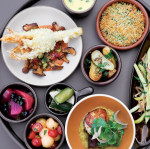 So casual and clattering is this hard-edged room with concrete floors and raw beams and giddy splashes of popsicle brights, a person wandering in off the street might never suspect that here lives some of the most sophisticated fare in the Pacific Northwest. After all, it's Jerry Traunfeld in the kitchen—he who once brought off nine-course feasts at the Herbfarm, and who is now performing a somewhat more modest version of the same endeavor: the 10-dish platters, thali, he picked up on a research trip to India. So it's small-plate dining, only with the considerable bonus of the chef choosing the combinations. At Poppy the technique results in some glorious dining: carrot matchsticks exotic with clove and lemon thyme; gazpacho bright with melon and mint; a chunk of pink albacore with green tomato, peppers, and fennel. This is not Indian food but a Northwest tasting menu, from a chef at the top of his game. Starters and desserts, à la carte available for around $5, are unmissable.
Last updated: 07/12/2012
Address

622 Broadway E
Seattle, WA 98102

Phone

206-324-1108

Hours

Mon–Thu 5–11; Fri & Sat 5–midnight; Sun 5–10

Website
Please Note: Before making plans, please call ahead with the establishment to verify that this information is still accurate.