Pomegranate Bistro
Editor's Pick
• $$ • American/New American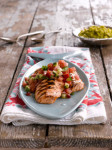 Enter the most nondescript office park in Redmond and you'll find yourself in the eye of Lisa Dupar's culinary storm. Our region's biggest-name caterer—just ask Martha Stewart and Bill Clinton, two she's fed—runs her burgeoning empire from this enormo industrial kitchen, which buzzes behind glass like a Humans Can Cook! exhibit at the zoo. The restaurant itself is a sprawling expanse of unupholstered surfaces and vinyl-covered tables—just right for the flocks of Redmond families who love the place—with a jazzy verve and a menu of innovative crowd-pleasers that made Dupar famous to begin with. The unbridled zest of such dishes as fire-grilled flatbread topped with tequila rock shrimp, roasted garlic, jalapeños, and cilantro oil; or a smoked salmon benedict on toasted scallion cheddar biscuits, poached eggs, and hollandaise testifies to the truth too few chefs really get: Only flavor matters. All this, plus warm service and a quick-serve takeout coffee bar with nummy pastries.
Last updated: 03/04/2014
Address

18005 NE 68th St
Redmond, WA 98052

Phone

425-556-5972

Hours

Mon 11–2; Tue–Fri 11–10 ; Sat 9–10; Sun 9–2; 7–11 daily

Website
Please Note: Before making plans, please call ahead with the establishment to verify that this information is still accurate.