Paseo: Ballard
Editor's Pick
• $ • Cuban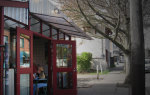 Lorenzo Lorenzo's sun-splashed, tin-roofed hit of Havana is so cruelly popular its addicts endure lines out the door knowing that they must pay cash, they will almost assuredly not get a table (there are three), and there will be hell to pay laundry-wise (these sandwiches drip). Yet still they wait—here and in a second location at Shilshole Bay—their prize of choice to arrive between the halves of a toasted baguette slathered with mayo, cilantro, and plenty of caramelized onions. Perhaps it will be marinated pork, perhaps sautéed prawns, each a plate-filler and served with a cob of fresh corn. Perhaps it won't be a sandwich at all, but rather a plate of fiery fish in red sauce over rice, or a wickedly fragrant bowl of salsa chicken over black beans and rice, jalapeños and cheese, and every last spice in the Caribbean palette. So the meat arrives overcooked; you're in no mood to quibble. We've actually found it's impossible to quibble to a steel-drum soundtrack, amid aromas transcendent as these. No alcohol.
Last updated: 07/26/2012
Address

6226 Seaview Ave
Seattle, WA 98107

Phone

206-789-3100

Hours

Tue–Sat 11–8

Website
Please Note: Before making plans, please call ahead with the establishment to verify that this information is still accurate.