Pam's Kitchen
• $$ • Cuban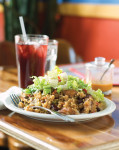 This joint at the northeast corner of 50th Street and the Ave bookends a strip of hole-in-the-wall student eateries, but with its high ceilings and windows it seems destined for grander things. Pam Jacob bridges these contradictions with fearless swaths of peacock blue, papaya red, and mango yellow and the equally uninhibited cuisine of her native Trinidad, a folk fusion of West Indian and Afro-Caribbean. Food and decor both achieve a mysterious heady harmony. Roti—fresh flatbread with stewed fillings—is the staple; the lamb's especially savory, the vegetarian plainer. The herbivorously inclined can make a fine meal from spicy green bean, spinach with okra, and (best) garlicky pumpkin sides. Pam's jerk chicken is beautifully lacquered and wonderfully fragrant. A creamy pumpkin or peanut punch (milk smoothie) makes for a perfect comfort sip; bittersweet mauby-bark punch and Guinness ice cream offer more of a challenge. Trinidad means steel drums and soca, so Pam's music is great, and occasionally live.
Last updated: 06/13/2012
Address

5000 University Way
Seattle, WA 98105

Phone

206-696-7010

Hours

Sun–Thu 5:30–10
Fri & Sat noon–3; 5:30–11

Website
Please Note: Before making plans, please call ahead with the establishment to verify that this information is still accurate.