Palace Kitchen
Editor's Pick
• $$ • American/New American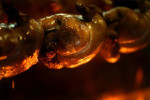 Medievally lit, anchored by a twinkling bar, lined with floor-to-ceiling windows, dripping with chandeliers, peopled by…everyone—this is the Tom Douglas restaurant Seattleites love best. Oh sure, it's the food—big satisfying plates of grilled mustard sausage and applesauce or Piedmontese ravioli or goat cheese fondue or grilled rib steak with chanterelle jus—or any of the rest of Douglas's canny comfort-food originals. But more, it's that the Palace virtually crackles with the energy of a smashing cocktail party, till well after most restaurants are shuttered for the night. It's the place where you can pop in for a plate of sausage and grits at midnight (it's open every night until 1AM), assured that the server will know just the right cocktail to accompany it, and confident that you won't be drinking anywhere near alone. Reservations are essential; pity they don't take them for parties of less than six.
Last updated: 07/12/2012
Address

2030 5th Ave
Seattle, WA 98121

Phone

206-448-2001

Hours

5–1am daily

Website
Please Note: Before making plans, please call ahead with the establishment to verify that this information is still accurate.