Monsoon
Editor's Pick
• $$ • Vietnamese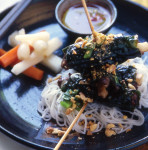 Seattle came of age as a Pacific Rim city the instant Monsoon unleashed its splendors upon the residential eastern side of Capitol Hill. Until then, unbelievably, there hadn't been a contemporary Vietnamese restaurant in town: no sleek love child of a worldly European bistro and a seasoned Vietnamese kitchen; no ingenious hybrid of Northwest (as in freshness) and Southeast (as in Asian). By the time an even more elegant branch had opened in Old Bellevue, the place had become a bona fide legend—and all because of some of the region's most extraordinary, and consistent, food. The grilled beef wrapped in la lot leaves and the drunken chicken are two of the most famous dishes in town, with good reason. It's no wonder folks are so forgiving of the slow service. Weekend morning dim sum features both French and Vietnamese selections.
Last updated: 09/21/2012
Address

615 19th Ave E
Seattle, WA 98112

Phone

206-325-2111

Hours

Mon–Thu 11:30am–10pm
Fri 11:30am-11pm
Sat 10am–11pm
Sun 10am-10pm

Website
Please Note: Before making plans, please call ahead with the establishment to verify that this information is still accurate.