Mamnoon
Editor's Pick
• $$$ • Middle Eastern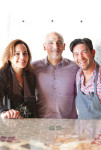 It may be hard to believe there's a serious Middle Eastern kitchen behind the sleek surfaces and throbby technopop of this modern cosmopolitan spot across from Melrose Market. But Mamnoon, which means "thankful" in Arabic, has an old soul. Dishes from Syria and Lebanon are built around bread: man'oushe flatbread that's topped like pizza with spices and cheeses and meats, the lunchtime kulage sandwiches made of grilled pita, unforgettably rich yet featherweight khobz bi fliefleh known as olive oil bread that's slathered with fiery hot pepper paste. Around all this pastry, the menu arises in elegant coherence, offering spreads like hummus and an astonishing muhammara, enough vegetables to excite the herbivores (try the wickedly crusty cauliflower florets served with tahini garlic sauce), and soups and salads and fish and meats. High end, consistent, nuanced, and genuinely exotic—there is nothing else quite like this in Seattle. A lunchtime takeout window turns it into underpriced street food.
Last updated: 03/10/2014
Address

1508 Melrose Ave
Seattle, WA 98122

Phone

206-906-9606

Hours

Tue-Sun 11am-2:30pm
Tue-Thu, Sun 5:30pm-9:30pm
Fri-Sat 5:30pm-10:30pm

Website
Please Note: Before making plans, please call ahead with the establishment to verify that this information is still accurate.