London Plane
Editor's Pick
• $$ • Wine Bars/Small Plates, Sandwiches/Deli, Coffee/Pastries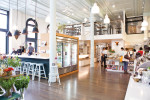 An eloquent country-house aesthetic prevails in this airy, two-level space off Occidental, with its bakery, deli, and in-house flower shop, painting a Jane Austen dream of the English countryside—right down to the cobblestones and leafy London plane trees out the window. Foodwise it's breakfast, lunch, and brunch iterations of Matt Dillon's (Sitka and Spruce, Bar Sajor) signature passions: bold salads with grains and vegetables, lots of cultured dairy, extraordinary brown bread for spreading, and plenty of vinegar counterpoints. Don't miss a slice of strawberry cake or gateau Basque for dessert—this bakery is outstanding.
Last updated: 08/28/2014
Address

300 & 322 Occidental Ave S
Seattle, WA 98104

Phone

206-624-1374

Website
Please Note: Before making plans, please call ahead with the establishment to verify that this information is still accurate.