Lola
Editor's Pick
• $$$ • Greek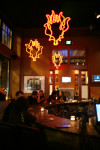 One day the gonzo ingenuity of Tom Douglas will cook up an organic Japanese-Jordanian-fusion taco kitchen–slash–tapas bar. Until that day comes we have Lola, Douglas's homage to his wife Jackie Cross's Greek heritage, and his greatest departure so far, doing three-meal-a-day duty as the house restaurant for downtown's Hotel Ändra. As ever, the food shimmers with vitality: dazzlers like minty feta and hot roasted red pepper spreads on grilled housemade pita; a salad of arugula, pickled peppers, local peaches, and Greek pastrami (cured, natch, in-house); a caramelly goat tagine with shallots and dates; a grilled lamb burger complete with chickpea fries and tamarind ketchup—fusing global influences and impeccable Northwest ingredients with his signature offhand perfection. The coolly Mediterranean place bustles loudly. Some of the best breakfasts in Seattle happen here.
Last updated: 10/22/2013
Address

2000 Fourth Ave
Seattle, WA 98121

Phone

206-441-1430

Hours

Mon–Thu 6am–midnight; Fri 6am–2am; Sat 7am–2am; Sun 7am–midnight

Website
Please Note: Before making plans, please call ahead with the establishment to verify that this information is still accurate.