Local 360
• $$ • American/New American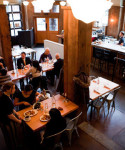 Holding down the corner of First and Bell is this sweet-spirited spot with raw timbers, lofty ceilings, long tables, and a drop-in ambiance—Belltown's version of Oddfellows. The menus (brunch, lunch, dinner) are heavy on comfort food (fried chicken and waffles!) and even heavier on sustainability: ninety percent of raw ingredients are sourced within 360 miles of Seattle. It's an admirable schtick that sometimes results in flavorful fare: short ribs in kalbi with roasted chiles, lamb leg over farro, a fresh and crunchy beet and filbert salad. Too frequent blandness and inattention to preparations, however, establishes the limitations of farm-to-table fundamentalism.
Last updated: 06/13/2012
Address

2234 First Ave
Belltown, WA 98104

Phone

206-441-9360

Hours

Sun–Thu 9am–midnight
Fri & Sat 9am–1am

Website
Please Note: Before making plans, please call ahead with the establishment to verify that this information is still accurate.