Lark
Editor's Pick
• $$ • Wine Bars/Small Plates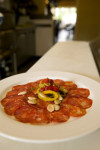 It's a mountain lodge! It's a monastery! Lark's raw timber rafters crowning an austerity of white, its unexpected location (across from Seattle U), and its bold small-plate dining conceit hit Seattle like a lightning bolt in 2003. It created an immediate buzz and vaulted the many-teensy-portions m.o. into Seattle's collective consciousness. Owner-chef Johnathan Sundstrom's seasonal array, divided on the menu into cheeses, vegetables and grains, charcuterie, fish, and meat, is fired with invention. Depending on whom you ask, it's either a particularly adventurous and intimate way to dine, well worth the mounting ka-ching of the tab; or it's toy food for posers, slyly spendy, and who wants to wait for that? The former holds true as long as you anchor the meal with smoky duck or a sizable chunk of tender pork belly, then accessorize with sides and cheeses to average two to three plates per diner. Service wavers between aloof and exceptional.
Last updated: 10/22/2013
Address

926 12th Ave
Seattle, WA 98122

Phone

206-323-5275

Hours

Tue–Sun 5–10:30pm

Website
Please Note: Before making plans, please call ahead with the establishment to verify that this information is still accurate.