La Medusa
Editor's Pick
• $$ • Italian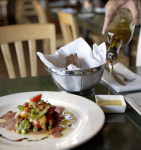 The bold, briny flavors and Moorish influences of Sicilian food were unrepresented in this town till La Medusa took a chance on Columbia City. The place is now on its third set of owners, but they've retained the classics—the salt cod fritters in tomato sauce bright with capers and garlic, the spaghetti con le sarde studded with sardines, raisins, pine nuts, and olives—and even bettered a few things, like crispy-crusted pizzas. In summer try the prix-fixe Market Dinners when the Columbia City Farmers Market is in full bloom. Though the restaurant can make legitimate claim to culinary pretension, it's just-folks enough to give the kids a hunk of pizza dough on arrival. It's small, but uncomfortable chairs keep the waits short.
Last updated: 07/25/2012
Address

4857 Rainier Ave S
Seattle, WA 98118

Phone

206-723-2192

Hours

Tue & Thu 5–9; Wed 5–10; Fri & Sat 4–10

Website
Please Note: Before making plans, please call ahead with the establishment to verify that this information is still accurate.