La Bête
Editor's Pick
• $$$ • Continental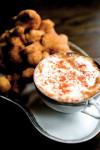 A debauched Bohemian streak runs through the vintage twilit room on West Capitol Hill; big acid-trip art peeks out through elegant crystal chandeliers. The result is displacingly magical (just walking through the door after snagging a parking space in this crowded 'hood holds a nearly mythic sense of arrival), and the food—by young apprentices from Lark and Union—enshrines a similarly fanciful sensibility. Ingredients in the small-plate preparations—of four-mushroom bread pudding; or kabocha squash soup with blue cheese popover; or beef cheeks with farro, chard, porcini, and grapes—are ferociously local, while the hardworking creatives in the kitchen keep the small-plate preparations surprising and fresh, and executed exactingly.
Last updated: 10/22/2013
Address

1802 Bellevue Ave
Seattle, WA 98102

Phone

206-329-4047

Hours

Tue–Sat 5pm–11pm; Sun 5pm–10pm

Website
Please Note: Before making plans, please call ahead with the establishment to verify that this information is still accurate.