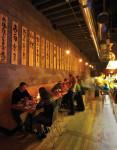 What is this, Tokyo? This city's gone crazy with ramen houses and izakaya bars, of the sort Japanese working stiffs flock to for beers and fried snacks after the five o'clock whistle. Seattle's had upscale sushi bars for decades, but now sake shops and cream-puff stalls and mod noodle joints pulse with youthful street prowlers, and at least one dive purveys the daffy East-West hybrid cuisine called yoshoku (think Japanese spaghetti). These days, the more down-market the Japanese food, the more down this town seems to be with it.
Kushibar is one of this new breed, but a passerby would never suspect it from the street. The sign out front spells "kushibar" in coolly blue lowercase letters but means: "You are in Belltown, land of young food faddists and cocktail swillers."
Last updated: 06/13/2012
Address

2319 Second Ave
Seattle, WA 98121

Phone

206-448-2488

Hours

Mon–Fri 11:30–1am
Sat & Sun 4–1am

Website
Please Note: Before making plans, please call ahead with the establishment to verify that this information is still accurate.