Joule
Editor's Pick
• $$$ • Korean, Global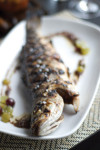 When it opened in 2007, Joule was like nothing Seattle had ever tasted. Not only were Korean thrills like kimchi and fermented tofu still breaking news outside the exotic mom-and-pops of Shoreline and Federal Way, we'd never before seen them fused with classic Western cuisine. When it moved in 2012, it reemerged in sleek Fremont quarters as a Korean-fusion steak house, buzzing with loud music and an open kitchen and close quarters (and close tables) and muscular cocktails and a cityful of young devotees of Joule's aptly named sister Revel. Expect the humblest cuts of beef—pot roast, shoulder—cooked to perfectionist specs and draped in unexpected fire from chili sauces and fermented tofu; expect sides like sliced pennies of crispy-chewy rice cake with greens and chorizo, or Chinese broccoli with walnut pesto, or some other innovation you cannot believe tastes this extraordinary. Where to bring the uber foodies.
Last updated: 01/09/2013
Address

3506 Stone Way N
Seattle, WA 98103

Phone

206-632-5685

Hours

Sun–Thurs 5pm–10pm
Fri–Sat 5pm–11pm
Sat & Sun 10am–2pm

Website
Please Note: Before making plans, please call ahead with the establishment to verify that this information is still accurate.